Book: 'Design Talks: Contemporary Creatives on Architecture and Design' by Massimo de Conti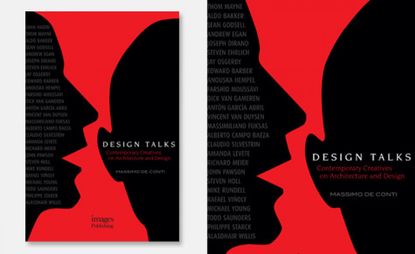 (Image credit: TBC)
If you have ever wondered what inspires the world's leading designers and architects in their work, this book will offer an intriguing insight. Produced by Images Publishing (opens in new tab), 'Design Talks: Contemporary Creatives on Architecture and Design' is an engaging collection of interviews that delves into the creative minds of the design and architecture movers and shakers of today.

Written and compiled over two years by architecture pundit Massimo de Conti (opens in new tab), the book features a stellar cast of industry luminaries, from John Pawson (opens in new tab) to Zaha Hadid (opens in new tab), Steven Holl (opens in new tab) and Philippe Starck (opens in new tab). 'I realized that the interviews I had done – some of which were published in BMM magazine (opens in new tab) – were very powerful, so I started to come up with the idea of a book,' explains de Conti.

'They are architects and designers who I admire and that I actually wanted to talk to and discover more about, ' says de Conti, who spent nearly a decade developing the press office for London-based architecture firm Claudio Silvestrin (opens in new tab).

A journey through the vision behind what has informed some of the design world's most outstanding projects, this book of conversations features a selection of charismatic portrait shots and photographs of the iconic works. Each interview is accompanied with a personal quote about the designer by de Conti. 'I wanted a format that allowed me to find out more about the man or woman behind some great projects,' says de Conti. 'Not only from a professional, but also a personal point of view,'

Currently available as an eBook (opens in new tab), with the print version to be released at a later date, the compendium is an earnest and refreshing approach into the compelling world of the design elite. 'I like the idea that people might discover something more about somebody they admire, and maybe laugh!' concludes de Conti.