Bonhams' new London HQ by Lifschutz Davidson Sandilands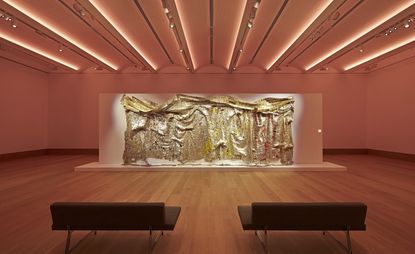 (Image credit: press)
'An auction house essentially needs to fulfil two functions,' says Alex Lifschutz, 'It's got to be a warehouse. And it's got to be a theatre.' The architect should know, given his practice Lifschutz Davidson Sandilands is responsible for the freshly unveiled £30 million revamp of Bonhams' London headquarters.
It's a little more complex than that, of course. The site at 101 New Bond Street could not have been so dramatically transformed from a 'rabbit warren' with extremely tight Mayfair planning constraints, into a vast, light and high-tech modern facility without some serious innovation. While the facade of the Grade II listed Art Deco building remains as familiar as ever, immediately on entering, the interior will be barely recognisable to anyone who used to know it.
The space, which comprises a stunning 18.5m high atrium, three large and fully flexible auction rooms - two of which are double height and all precisely air and temperature controlled - is designed specifically with clients and customer service in mind, says Bonhams chairman Robert Brooks. It also represents a major commitment by the company to London as a global centre of art. With Bonhams having experienced a highly successful decade - it is one of the fastest growing international auction houses in the world - it now plans to extend a similar treatment to its New York and Hong Kong outposts too.
'An auction house today has a very different set of requirements to those of the past,' says Lifschutz. As well as the required sense of theatre and the benefits of clever lighting schemes and smart acoustics, lot sizes have also grown significantly larger. Contemporary art, he explains, tends to be created to fill gallery spaces and is often huge in scale, requiring similarly enormous display rooms and extensive storage capability. Today, Bonhams finds itself putting many vintage supercars under the hammer too, hence the need for a dedicated hydraulically operated platform on which to showcase them.
The inaugural exhibition is a showcase of highlights from Bonhams' winter sales, including the multi-million pound 'Portrait of François-Henri, 5th duc d'Harcourt', by French painter Jean-Honoré Fragonard.
ADDRESS
Bonhams
101 New Bond Street
London W1S 1SR