Architecture update: Letter from China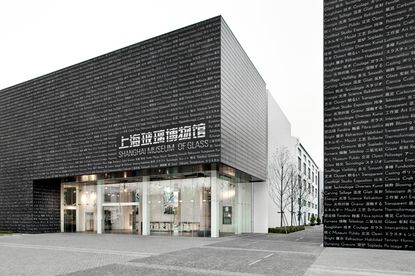 (Image credit: www.coordination-asia.com, www.logon-architecture.com)
Shanghai Museum of Glass, by Logon Architects/Coordination Asia
German practice Logon has been feted across the country for its design of the Shanghai Museum of Glass, launched last spring. The museum's unsung location, in an obscure northern reach of the city, and silly acronym (SHMOG) are mitigated by the lofty transformation of this former glass-making workshop, and the dazzling exhibition spaces planned by Tilman Thuermer of Coordination Asia. The 3,500sq m showcase displays delicate decorative works spanning a millennium, with emphasis on contemporary showstoppers and even futuristic applications for space travel. Over the coming months Logon will introduce a veritable village of workshops, in a tangle of defunct buildings behind the site
If buildings could talk, China's would be heard round the world. From gleaming culture halls and multinational hotels to cities like Ordos, in Inner Mongolia, where futuristic masterpieces rise from the desert like modern phoenixes, the sheer number of new constructions is mind-blowing. Consider places like Chongqing, Ningbo and Dalian, minor outposts just a decade ago – today they defy cartographers with skylines that can transform in an instant.
Clearly China is the place to be if you have aspirations in architecture. The arrival of titans like SOM (opens in new tab) and Gensler (opens in new tab) is old news these days, and even boutique firms are stepping over one another to set up shop in cities like Shanghai, Beijing, even second-tier outposts like Hangzhou.
Yet this is no mere Western invasion. Many of China's most exciting contemporary structures come from its new class of home-grown architects, taught internationally or at nascent design departments across the country. The American-led supertowers – and there are dozens of them – tend to monopolise the attention, but China's new creatives are starting small, building desperately needed schools, libraries and community centres.
What they all have in common is a passion for sustainable practices and a drive to somehow foil the country's current appetite for vast, wasteful projects by big developers. To be sure, the developers are eating up a lot of land, but the grass will be greener on the other side.
Liyuan Library, Huairou, by Li Xiaodong Atelier

In Huairou, a village just outside Beijing, locals use fallen timber to fire their stoves for tea and hot broth. Here, architect Li Xiaodong has used the sticks for cladding, affixed to a glazed exterior frame. A nature trail leads from the heart of the village to this mountainous forest, where the library, completed in October, lures dedicated readers. Inside, bespoke shelving displays the collection like a modern city bookshop. Steps incorporate platforms for seating and a reading deck is inset with more shelving
Himalayas Centre, Shanghai, by Arata Isozaki

Pudong is possibly the best example of a Chinese city that's risen from virtually nothing. Two decades ago it was nigh on unpopulated; today it is a showcase of some of Asia's boldest architecture, a prime example of 'if you build it, they will come'. Japan's Arata Isozaki rolls out the welcome wagon with his Himalayas Center, completed in March, inspired by feng shui, Chinese characters and artist Mondrian's Neoplasticism movement. The result - anchored by an 'urban forest' at centre - is as complicated as it is magnificent
Sliced Porosity Block, Chengdu, by Steven Holl
Steven Holl is bringing the panda city into the 21st century with his cluster of 'sun-sliced' towers in his trademark monochrome colour scheme (a nod to those pandas?). Linking the geothermally heated buildings are five stepped entranceways leading to a central elevated 'urban terrace' on the scale of Rockefeller Center's great public piazza. Three rainwater ponds dug out from the common are lined in translucent material so that they act as skylights to the retail plaza at ground level. The ponds are paired with pavilions designed by Holl himself as well as a collection of other designers
Zhujiajiao Museum of Humanities & Arts, by Scenic Architecture
The historic canal towns around Shanghai are fast becoming destinations for starchitecture. IM Pei recently completed his multifaceted Suzhou Museum and, last spring, Scenic Architecture launched its granite-and-glass museum in Zhujiajiao, the formidably named canal town. The open atrium is overlooked by a mezzanine, off which sprout galleries, terraces and a pool that reflects two ancient ginkgo trees at the entry of the old town
CITIC Towers, Shanghai, by Arquitectonica
Twin concave stone-and-glass towers by Miami-based practice Arquitectonica are simple yet striking monuments to China's banking might (they're occupied by the Agricultural Bank of China and China Construction Bank). And yet the riverfront site, the former Shanghai Shipyard, informed the design, including the nautical symmetry and the negative space between the towers, which resemble a gateway. The original slipway is to be restored for use as a museum
Andaz Shanghai, by Kohn Pedersen Fox
After a decade of sometimes ill-thought-out development across Shanghai, these low-rises in the smart Xintiandi district are doing right by the city. The shapely stone-clad structures, designed by multi-national practice Kohn Pedersen Fox (with offices in Shanghai and Hong Kong), provide a fantastical backdrop to the historic village that lies beyond, offering a new experience from every angle. The first to open, in early 2011, houses the luxury Langham hotel. Asia's first Andaz launched in the second building at the end of the year

www.kpf.com (opens in new tab)
KK100, Shenzhen, by TFP Farrells

In its spectacular transition from fishing village to economic zone of more than eight million, Shenzhen has displaced some of its old residents. But before breaking ground on the 3.6-hectare site that became the Kingkey complex, developers made villagers stakeholders in the project, offering packages that included new homes for everyone. Then, with a clear conscience, TFP Farrells built what locals call KK100, the tallest tower ever built by a British architect -- and the eighth tallest in the world. The 100-storey, 442m mixed-use building opened in autumn 2011, offering views to Hong Kong from the six-star hotel up top
St Regis Tianjin, by SOM
An homage to Rem Koolhas's CCTV Tower in Beijing? Doubtful, but the luxury Hai River-front hotel -- only 30 minutes by high-speed train from Beijing -- is no less striking. US practice SOM interprets the city's status as China's fifth largest -- and the 'gateway to the north' - with a hollowed cube in steel and glass, a few steps away from the high-speed rail station the practice plans to launch next year
Taikang Terrace, Shanghai, by A00 Architecture
Now that the architectural preservationists have got their act together, the challenge in Shanghai is development in marked historic zones. A00 Architecture has come up with a solution in the city's trendiest design enclave, a cluster of old lane houses repurposed as galleries and boutiques. Taikang Terrace, which opens officially in February, links a jumble of factories to the historic site with original brick, reclaimed wood and a series of communal terraces
Xiangfan City Museum by Antoine Predock Architects
Xiangfan City Museum by Antoine Predock ArchitectsNothing by international practice Antoine Predock Architects, which uses light, landscape, stone and steel equally in its unconventional structures, can be summed up in a single word. Indeed the Xiangfan City Museum, a paean to the ancient city, leans toward the indescribable. The museum is like an athiest church, sprouting from the earth and reaching toward heaven with stainless-steel shafts resembling organ pipes. Escalators carry visitors through the space like an unravelling scroll -- to the soundtrack of falling water from the fountains below