Immersive art and architecture meet at Helsinki's Amos Rex Museum by JKMM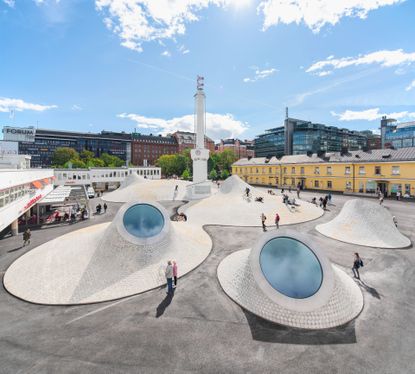 (Image credit: Mika Huisman)
This week marks the opening of a major new art space for Helsinki designed by JKMM Architects. Both subtle and striking, Amos Rex is a new, much larger and more hi-tech venue for the Finnish capital's private Amos Anderson art museum. The project inhabits a part of the iconic 1930s functionalist masterpiece Lasipalatsi (or Glass Palace) in central Helsinki, as well as a series of underground galleries offering 2,200 sq m of flexible space and plenty of natural light, thanks to some rather futuristic-looking domed skylights that bubble up into the square above.

The ticket office and all-important museum shop are located in the historic building, which was designed by three young architectural students – Viljo Revell, Heimo Riihimäki and Niilo Kokko – as a mixed-use pavilion with a restaurant, shops and cinema to serve the 1940 Olympic Games (these were eventually postponed to 1952). 'Lasipalatsi was intended to be a temporary building but it was very well built,' explains Asmo Jaaksi, founding partner at JKMM and lead architect on the project. It was 'pioneering and experimental', he says, pointing to features like its neon lighting and large glazed windows with sun blinds.
The project included the refurbishment and extension of the existing, landmark Lasipalatsi building in Central Helsinki.
Lasipalatsi has been beautifully and sensitively restored throughout and also updated technically, the aspect of the project Jaaksi admits was the most challenging. Its listed 590-seat cinema with its original red velvet and tubular steel stairs and geometric-patterned rubber flooring will now become a regular cinema on weekends again, as well as an events space and the building's restaurant has also been restored and offers some of the best food in the city. From the ground floor of Lasipalatsi a dramatic staircase overlooks a window onto the new piazza and brings visitors down into the main museum foyer, which is flooded in natural light and features a ceiling of illuminated white fabric swirls that appear to gently waft above you.

Throughout the rest of the 2,200 sq m of monochrome galleries, the angled roof lights – which artfully frame sections of the Lasipalatsi and the square above – can be left uncovered or not according to the needs of each show. The rolling sculptural landscape of concrete tile-clad hills above ground can also be programmed. It seems hard to believe that at one time this new public space composed of tiled funnels and hills housed the city's main bus station. In the past few weeks it has been taken over by locals and visitors who can be seen sitting, skating and walking over its undulating landscape. But the museum itself is sure to attract a wide audience too with its crowd-pleasing interactive and immersive first exhibition by Japan-based digital projection masters teamLab called 'Massless'.

Perhaps it's thanks to the museum's historic presence in the city, its large and state-of-the-art educational facilities and galleries or the use of a much-loved Helsinki landmark such as Lasipalatsi as its main entrance and calling card, but Amos Rex feels very much of its place and for its city. For its part the city seems to have already reciprocated and taken to it in no uncertain terms.
INFORMATION
For more information, visit the JKMM Architects website (opens in new tab)