Brick by brick: Lisbon Architecture Triennale exhibition lays out the nuances of construction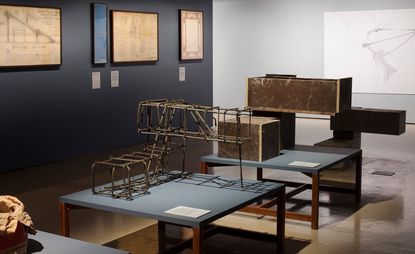 (Image credit: Tiago Casanova)
One of the most rewarding moments of the fourth edition of the Lisbon Architecture Triennale is an exhibition quite simply called 'Building Site'. Curated by André Tavares, who is also the Triennale's co-curator along with the late Diogo Seixas Lopes, the show explores the politics, economics and labour of making buildings, as well as often neglected aspects of the construction process, such as well-being and time.

The building site is the 'crucial moment' when architectural design becomes form, the exhibition argues. For months and sometimes years it is a 'public performance', a place teeming with hundreds and thousands of workers, huge cranes and awe-inspiring scaffolding, as well as a place where massive sums of money are invested. All this requires huge human and intellectual effort, and the smallest details can have enormous ramifications.

Stills from a short film entitled 'Choreographies' by Pedro Alonso and Hugo Palmarola, in which US and Soviet cartoons are shown side-by-side
In a section devoted to time, the show looks at how OMA's famed Casa da Música in Porto was the result of both a hugely ambitious deadline for the concrete outer shell (designed to coincide with Porto's year as European Capital of Culture in 2001) and major delays. The former was completed in record time, based on an existing design for a single-family home that the architects repurposed. When various bureaucratic and political delays hit the construction programme, architects were able to devise the interiors with the benefit of time. The richer palette of ideas and materials inside the building is the tangible result.

The show persuasively demonstrates that at every stage of the construction process human input is fundamental, even in an age of digital tools and machinery. In a section called 'Communication', a fascinating drawing by David Chipperfield Architects maps out the restoration of the ceiling of the Roman room at the Neues Museum in Berlin. The printed drawing instructs conservators as to how to deal with the building surfaces, but a series of pencil markings added on-site record when the work has actually been carried out.

One of the lighter moments of the show is provided by a film called Choreographies, showing a host of American and Soviet cartoons side-by-side. These feature a panoply of hair-raising construction scenes, where steel cranes whizz various characters on steel beams and concrete panels into the sky. It's amusing, beautifully timed and set to music, but there is a more serious point being made here, as across the exhibition in general – that building sites are a choreography of moments that come together to make a greater whole. All the various interests at play – commercial, political, social and architectural – require human negotiation, and a delicate dance and equilibrium.
INFORMATION
The Lisbon Architecture Triennale is on view until 11 December 2016. For more information, visit the website (opens in new tab)