A Prague exhibition celebrates the life and work of an unsung hero of Israeli architecture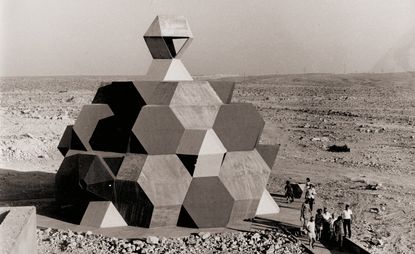 (Image credit: Photography: Archive of Zvi Hecker )
Wallpaper* Newsletter
Receive our daily digest of inspiration, escapism and design stories from around the world direct to your inbox
Thank you for signing up to Wallpaper. You will receive a verification email shortly.
There was a problem. Please refresh the page and try again.
Experimental structural solutions and fantastic modernist forms have taken over Gallery NTK at the Czech National Library of Technology in Prague, for a survey of Israeli architect Alfred Neumann. Curated by the Ostrava-based Cabinet of Architecture in collaboration with MIT's Rafi Segal, the show is the first major international attempt to present the work of Neumann.

The exhibition gives a comprehensive overview of Neumann's life and career. Born in 1900 in Vienna, Neumann moved to Brno in Czechoslovakia, where his father operated small carpentry workshop. In 1922, he enrolled at the Vienna Academy, where he studied under Peter Behrens, going on to design furniture and interiors.

After surviving the concentration camp in Terezín during the Second World War, he escaped to Israel during the communists' rise to power in Czechoslovakia in 1948 and began to work for Richard Kaufmann briefly. He became Dean of the Architecture Faculty at the Israel Institute of Technology in Haifa; following extensive travels, he founded his own atelier in 1959, inviting former students Eldar Sharon and Zvi Hecker to join him.

Influenced by the Czechoslovakian pre-war international style and the material expression of brutalism, Neumann created highly original versions of modernist architecture. Together with Sharon and Hekcker, who later rose to fame after Neumann's death, the architect designed some of the most important structures in Israel during the 1950s and 1960s.

Archive images of several of Neumann's most important projects, dating back to 1930s feature in the exhibition, beside recently-built, 3D-printed models, and life-size installations, evocating the architect's hard-edge structural solutions of his celebrated projects.
After using expressive polyhedral structures to design lightweight beach pavilions for a holiday camp at Achziv, he soon began to realise his visions in concrete: his town hall project in Bat Jamu, for example, was completed in 1963. Neumann's later work – such as the Dubiner apartment building in Ramat Ganu – explored new possibilities of spatial design in the residential environment, and his military school in Mitzpe Ramon, finished in 1969, offered more surprises with its playful form of stacked concrete hexagons.

Following a successful career in Israel, Neumann relocated to Canada where he taught at the Université Laval in Quebec into his later life. After his death in 1969, his influence continued to be seen widely, through the work of his student Hecker (who also excelled in modular residential designs), and further afield too, in the ideas of the Japanese metabolists and European structuralists.
INFORMATION
'Space Packing Architecture: The life and work of Alfred Neumann' is on view until 1 October. For more information, visit the Czech National Library of Technology website
ADDRESS
Gallery NTK
Czech National Library of Technology
Technická 2710/
160 80 Praha 6-Dejvice
Receive our daily digest of inspiration, escapism and design stories from around the world direct to your inbox