Danish design gets an Argentinian edge in Elhanati's Gothic silver jewellery
Orit Elhanati has partnered with Conie Vallese on a romantic new Elhanati jewellery collection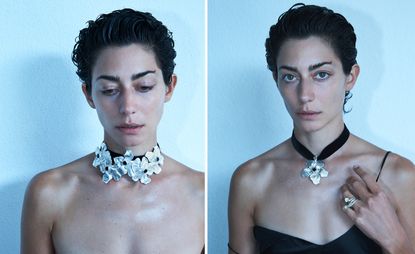 (Image credit: Josh Ollins)
Danish cool meets Argentinian artistry in a new collaboration between jewellery brand Elhanati and Conie Vallese. The partnership is the culmination of a longtime friendship between the artist and founder Orit Elhanati, who looked to a Gothic narrative for a jewellery collection inspired by the 1990s.
'The jewellery served as the perfect canvas for Conie and I to unleash our artistic visions,' says Elhanati (who has previously created art deco-inspired jewellery with Khaite, and Elhanati jewellery for men). 'Silver's natural beauty, its robust lines, and expansive surface allowed us to express our creativity in a unique way. Unlike the pliability of yellow gold, which is easy to manipulate, silver is hard but tells a completely different language. It felt just right for this collaboration. Its reflective quality and lasting durability were perfect for the story we aimed to tell. By adding black diamonds and spinels, we incorporated additional elements of mystique to our creations, kind of enriching the narrative. "Jardin", for us, seamlessly merges historical charm with contemporary design, offering a distinct expression.'
Pieces draw from old paintings and the mysticism of nature in their oversized silhouettes and richly textured forms. 'Our aesthetic draws from the enchanting Gothic Victorian era, known for its complex craftsmanship, dramatic silhouettes, and precise attention to detail,' she adds. 'This period embraced both darkness and opulence, speaking a captivating visual language that continues to captivate to this day. In the collection we pay homage to this aesthetic by infusing our designs with detail, delicacy, and a sense of romantic grandeur. Simultaneously, we play with '90s aesthetics through black velvet chokers and floral motifs. Floral motifs symbolising strength, fertility, and grandeur. It's like a fusion of two eras, resulting in a visual narrative that's as timeless as it is seductive.'
The pieces, although celebrating a richness of form, nod to Elhanati's distinctive brand of cool minimalism. 'In each petal and stroke, you'll find a careful balance between minimalism and boldness. Our designs dance on the edge of chaos, yet maintain a minimalistic essence. Even in the bold flower choker collar, observe how we contrast the unyielding silver finish against the sparkling black diamonds and spinels. This interplay creates a truly unique expression, leading you into a secret garden where the unexpected becomes reality. A place where beauty appears in the most unexpected places. I love a challenge and collaborating with Conie on this large silver canvas felt just right. Together we've forged a visual language that's both timeless and exhilarating, encapsulating the essence of our collaboration.'
Receive our daily digest of inspiration, escapism and design stories from around the world direct to your inbox
Hannah Silver is the Art, Culture, Watches & Jewellery Editor of Wallpaper*. Since joining in 2019, she has overseen offbeat design trends and in-depth profiles, and written extensively across the worlds of culture and luxury. She enjoys meeting artists and designers, viewing exhibitions and conducting interviews on her frequent travels.