Cindy Chao on crafting these unique emerald and diamond cardamom pod brooches
Jewellery designer Cindy Chao tells us what went into the making of the one-of-a-kind brooches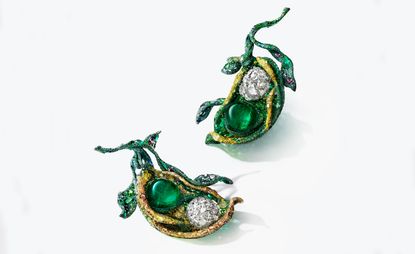 (Image credit: Cindy Chao)
Cindy Chao imbues naturalistic motifs with a magical realism in works that embody a technical mastery of precious stones. Her two new 'Black Label Masterpieces', inspired by cardamom pods and featuring exquisite oval-shaped cabochon Colombian emeralds, are a case in point, with the invisible settings holding the emeralds and diamond spheres in place, bringing a natural undulation to the one-off brooches. Here, Chao details the creation process and the challenges encountered along the way.
Wallpaper*: What inspired the design of these pieces?
Cindy Chao: Inspiration is an accumulation of my life experience, sensibility, and passion. As an artist and a global traveller, I see art as a powerful mechanism that can break down barriers of religion, race, nationality, age, culture, etc. My works reflect my travel and cultural experiences; therefore, inspiration meets me at any moment in life. The ocean's mesmerising blue and green colours that greeted my eyes in a snorkelling expedition in Bora Bora inspired the Aquatic Collection. Serendipity greets me at any moment in life and I savour these precious memories and preserve them in wax sculptures and art pieces for ages to come.
With the pair of 2022 Black Label Masterpiece X and XI Spring Cardamoms Brooches, I wanted to encapsulate the vitality and hope of spring, but the inspiration for these brooches took some time. I have had these two beautiful oval cabochon Colombian emeralds (of approximately 81 carats) for some time now and I wanted to create an artistic expression accentuating the rare size and quality of the emeralds. I started leafing through a work of botanical drawings and stumbled upon some cardamon pods. I knew then what I would do with these cabochons. The centre stone is complemented by the coloured gems that surround it, which include yellow diamonds, brown diamonds, tsavorites, demantoids, colour-changing garnets, alexandrite, and green sapphires.
I have recently enjoyed studying the colour-layering principle seen in oil painting and have adapted this technique to my jewellery; for the 2022 Black Label Masterpiece X and XI Spring Cardamoms Brooches, I experimented with this new concept: '3D-3'. It's a breakthrough from my iconic and organic three-dimensional qualities.
By applying the colour-layering technique, I elevate the concept of three-dimensionality through colour to the brooches' existing structural titanium base. I used 28 shades of green gemstones to create the natural contour and highlight of the cardamoms under the sun, and this precious setting of gemstones in various colours and cuts results in an undulating and mesmerising visual play of light and shadow that further accentuates the art jewel's sculptural form. This new '3D-3' concept sets the tone for Cindy Chao The Art Jewel's future creative direction, marking an important milestone in our history and DNA.
W*: Your designs marry naturalism with magical details. How do you find this balance?
CC: I am very fortunate because I've not had a conventional training, and I spent most of my early days with two masters of their own crafts – sculpture and architecture. This training gave me a very different and unique approach when creating an art jewel. Crafting organic pieces with intricate life-like details comes naturally to me, thanks to my family heritage and upbringing.
[I was my] father's first apprentice, [and] he taught me the value of observation. He once spent days riding the bus to observe the facial expression of the elderly when he was tasked to create a portrait sculpture of an old man. His words of wisdom constantly ring in my ears: 'Regardless of subject, the final piece must be as vibrant as it is in real life. Observe and pay attention to the tiniest details, and then with your heart, pour your perception into artistic forms.'
My grandfather was a distinguished architect who designed hundreds of national monuments across Asia. He trained me to think outside the box and see the world objectively in a structural and spatial way. He would open a blueprint and ask me to point out the main entrance of a building. 'A main entrance for you could well be the side or back door from another's perspective', he loved to say. He showed me that a holistic view originates from a three-dimensional mindset.
With a well-trained eye for natural beauty, I found a way to incorporate my father's and grandfather's skills and creative mindset into my own work and art jewels. I begin my creative process with a 1-to-1 scale wax model, using the 18th-century lost-wax technique. This has allowed me to feel every curve in my hand. Sometimes, I finish a wax model but leave it for weeks or months before coming back to it, mostly as I want to see if I still have an emotional connection to the work. How could my works touch people's hearts if I don't feel the passion myself? I believe this is the driving force that motivates me to create and capture these moments in life, as it reminds me to create art jewels that incorporate part of my life story, and eventually, the pieces will connect with and become a part of collectors' lives.
As my grandfather and father taught me, a true piece of art transcends time, and the ones that thrive leave an impact for generations to come. It's quite powerful.
W*: What were the main challenges you encountered when creating this piece?
CC: Titanium is one of the toughest metals in the world, making its metalworking and the subsequent gem setting extremely difficult. It is five times harder than 18ct gold and its melting point, above 1,668 degrees Celsius, makes the crafting and setting process extremely time-consuming and difficult. To create a piece in titanium may take up to five times longer than in gold, but titanium can effectively reduce a jewel's weight, which is key for my creations, especially as I set out to convey life and emotions through organic contours in each of my creations.
The lost wax casting and wax forging technique are the secret to Cindy Chao The Art Jewel's lightweight qualities. An iron hammer weighing at least 1.5kg is used to squeeze, extend, and shape the titanium into the desired organic form. The hardness level of titanium increases as temperature rises during the forging process, making it increasingly difficult to shape, and the failure rate of casting is extremely high. The forging process [is full of] challenges; however, [they] can be overcome with persistence and tenacity.
One mishap throughout these processes, even in the tiniest detail, might result in us having to start from scratch. I always strive for excellence, whatever the cost and for this reason, I collaborate with expert craftsmen with at least 15 years' experience of advanced techniques in titanium crafting.
Hannah Silver joined Wallpaper* in 2019 to work on watches and jewellery. Now, as well as her role as watches and jewellery editor, she writes widely across all areas including on art, architecture, fashion and design. As well as offbeat design trends and in-depth profiles, Hannah is interested in the quirks of what makes for a digital success story.