Edge to Edge: Yves Behar's new Special Edition Movado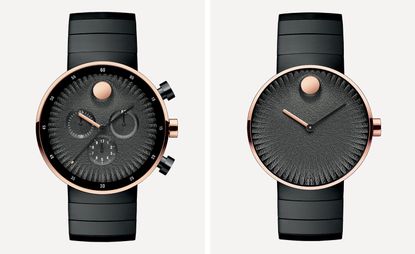 (Image credit: Movado )
Minimalism has always sat comfortably alongside the clutter of complicated watches, yin to its yang. Movado holds the honour of being both the first and the best at championing that state of utter simplicity, with its production of the Museum Watch, designed by Bauhaus-influenced artist Nathan George Horwitt in 1947.

His Museum Watch dial has no details save for a gold dot at the 12 o'clock position, the designer realising that the world was conditioned to viewing the positioning of the hands alone to tell the time. Numbers were therefore not essential. The name was appended to it when the watch was added to the permanent collection of the Museum of Modern Art in 1960.

This dot motif has become a Movado signature even on models that do have detailed dials, but the clutter is always kept at bay. Working with industrial designer Yves Béhar, Movado launched a new interpretation of the watch – the Edge – in 2015. Now he has created a new addition to the collection.
When he designed the Edge, Béhar reworked Horwitt's original design in three dimensions, adding drama by raising the dot from the dial. He also moved on from the perfect smoothness of the original to a textured finish. Simple or not, it's so cleverly executed that it can suggest the surface of the moon, the sun in the sky, the sea or even a volcano.

Further enhancement came in the form of sculpted ridges that could be the rays of the sun or the edges of a pie crust. Their purpose isn't solely aesthetic, as they also correspond to minute markings in conflict with the original absence of any form of indices – yet still Béhar avoided clutter.

For the Movado Edge Special Edition collection, the concave dials sport a new texture, reminiscent of fine-grain leather or even stone. As Béhar says: 'The organic patterns of the Special Edition are constructed through a unique casting process, while the accents celebrate the subtleties of the original collection.' The new design comes in two sizes of the time-only model and a remarkably clean chronograph – in stainless steel with a blue dial and contrasting blue dot, and in black and rose gold-plated stainless steel, with a black dial and rose gold-toned dot. The casebacks are engraved with Béhar's signature.
INFORMATION
For more information, visit the Movado website (opens in new tab)