X-men: the erotic watch gets a Fellini-esque update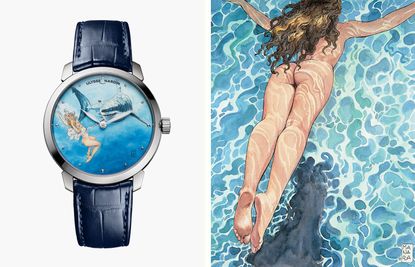 (Image credit: Ulysse Nardin )
Among watch collecting's less-publicised fields, for obvious reasons, is the erotic timepiece. Dating back to the 18th-century, when kinky pocket-watches were strictly the province of the fabulously wealthy, they featured either passive dials – hidden or exposed – or actual mechanical functions of a risqué nature.

Such timepieces were borne of an age when the libertine, the rake and the roué were expected to indulge in such guilty pleasures. They were witty, too – a high-culture version of a saucy postcard.

Their somewhat wink-wink nature continues to fascinate. Ulysse Nardin – a watchmaker with strong links to marine technology, also has a unique heritage of erotic designs that it continues to add to its back catalogue. This year, it has introduced a refined pop art vibe, inviting the legendary Italian artist, cartoonist and storyboardist Milo Manara to collaborate on its latest iteration.

Manara worked with Federico Fellini in the 1980s, when the Italian maestro engaged him to illustrate screenplays. He has since worked film-maker Alejandro Jodorowsky and writer Neil Gaiman. Manara also collaborated on X-Women and X-Men Girls for the legendary comic-hero creator Chris Claremont.
Manara's 'Classico Manara' characters for Ulysse Nardin are shown in varying degrees of sexual congress, realised in a style reminiscent of the finest comic book art of the 1970s and 1980s, with special appeal to those who might recall magazines such as Métal Hurlant and the birth of adult graphic novels. 'I always aim to find a delicate balance between eroticism and humour – a touch of irony is always good,' says Manara.

A limited-edition series of 10 different dial designs makes up the Ulysse Nardin 'Classico Manara' collection. They chart the adventures of Nadia, a young woman who leaps from a sailboat, to be rescued from a shark by a mermaid, Ulyssa. The dials tell the tale sequentially, from leap to lovemaking, in glorious detail, each of the 10 'frames' realised in miniature by the master enamel dial painters at Ulysse Nardin – arguably the finest in the business.

Featuring an in-house automatic movement, 200 hand-painted pieces have been created in total, in stainless steel and in rose gold, by request. And, so as not to obscure the artwork, each watch features only the hours and minutes, indicated by luminous leaf hands. The 40mm dial size also make the pieces a good fit for men or women's wrists.

Manara is sanguine about the fact that his work may be viewed as controversial, particularly in the current era. 'Eroticism is the opposite of violence. It's fantasy. I never confuse the two,' he says.
INFORMATION
For more information, visit the Ulysse Nardin website