Playing tag: Kongo's riot of colour for Richard Mille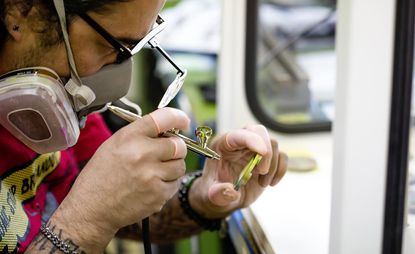 (Image credit: Didier Gourdon)
Dalí melted a watch; the dial on Picasso's spelled out his name. It was outrageous back in 1985, when graffiti artist Keith Haring produced a dial design for Swatch. Three years later, Warhol created a model for Movado and over the past couple of years, Parmigiani has engaged street artist André Saraiva to create dials for limited edition collections. So, it's safe to say that a sub-genre caters to art-loving watch enthusiasts.

This month, however, a new level of integration between art and horology emerges with the astounding 'RM 68-01 Tourbillon Cyril Kongo' from Richard Mille. Kongo is the Paris street artist already famed for designing the Hermès graffiti silk scarf in 2011. Now, he has hand sprayed a watch movement, decorating every visible level within to further heighten its multi-layered 3D effect. Despite the miniature scale of the mechanics, Kongo has exploited every surface. From the chapter ring, graduated in hours and minutes, to the bridges supporting the various components, the artist has endeavoured to decorate them all – even the barrel cover and the glass itself.

Richard Mille has never shied away from colour in its designs, adding a wry humour to a design arena dominated by precious metals.

Using a tourbillon movement also shows Mille's commitment to an authentic coming together of the disciplines of street art and high-end watchmaking. That apparent disconnect is not lost on Kongo, who explains, 'Graffiti is a language with its own codes, a form of writing, whether this be on a gigantic wall, on canvas, or any other surface. I am not a painter bound to a single space, nor to any particular surface.'

The watch design, limited to 30 pieces worldwide, took over a year to develop. A special painting technique suitable to a micro-milieu had to be developed, with Kongo eventually using an airbrush that could deliver one droplet at a time. Even the weight of the paint had to be determined so as not to upset the watch's functionality, while ensuring it would adhere to the titanium surfaces created further challenges.

No wonder the 'RM 68-01 Tourbillon Cyril Kongo' offers something fresh at every glance.
INFORMATION
For more information, visit the Richard Mille website (opens in new tab)
Photography courtesy Richard Mille and Kongo