Kyoto stories: a long-lost box of Japanese fabrics has inspired a magical jewellery collection
A box of antique kimono fabric compelled Brazilian jeweller Silvia Furmanovich to create a collection of one-of-a-kind jewels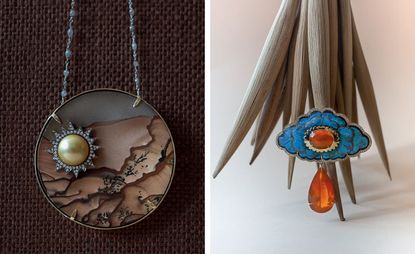 (Image credit: Gabriela Porthilo)
It was the glinting light that compelled Silvia Furmanovich to peruse a dark box of fabrics in a New York antiques store. Closer inspection revealed a pile of intricate material samples. The São Paulo-based jeweller had happened upon a collection of Nishijin woven silks which had belonged to a late Kyoto family clothing business serving aristocratic women in the Kansai region in the late 19th and early 20th centuries – the Meiji era.

'I was mesmerised by the wealth of nature motifs and symbols, such as cranes, clouds, sparrows, waves, bamboo shoots, maple leaves, chrysanthemums, peonies and dianthus flowers that decorated the fabrics,' Furmanovich says of the inspiration for the Obi collection. 'I thought they could be intricately interpreted using our marquetry and miniature painting techniques.'

The discovery also presented a swatch book with 141 fragments of obi belt fabrics. "Each piece was a little universe unto itself, complete with its own symbolism,' Furmanovich tells us. It was a serendipitous find because it so perfectly reflects the Brazilian jeweller's distinct fine jewellery style. 'I work with marquetry craftsmen in the Amazon rainforest and miniature paintings specialists in Udaipur, India. The Japanese design sensibility is out of this world and when I saw these fabrics, I knew that they could be interpreted using these specialist crafts – the intricacies and patterns created a natural dialogue with them.'

The result is a collection of multi-layered, textured depictions of the fabrics, created using wood overlays for the marquetry, and paints derived from minerals and gemstones for the miniatures. 'I am a firm believer in the power of craftsmanship, and I am dedicated to what I believe in,' says Furmanovich, going some way to explain the almost spiritual quality of these magical pieces.
ADDRESS
754 5th Ave,
New York, NY 10019,