Chemical reaction: Rolf Sachs' brilliant horological experiment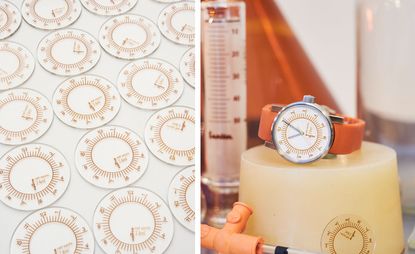 (Image credit: Rolf Sachs Studio, Max von Treu, Rolf Sachs)
As he launches his fifth watch for Fortis – the '2.4ml' – Rolf Sachs pinpoints the magical alchemy of poetry and process...

Wallpaper*: Clear, easy to read, legible on a tiny scale – chemistry glass design appears to be a perfect graphic fit for watch design.
Rolf Sachs: I have always had a passion for the visual language and production methods used in scientific laboratories, and my work often reflects and adopts these aesthetics and techniques. They awaken a nostalgia of old memories from chemistry classes in school labs. And as you rightly say, the process of cauterising fine numerals onto glass evidently suits the requirements of watch design.

W*: Are you conducting a kind of horological experiment?
RS: I am always aiming to discover something that has not previously been associated within the given context – I like to search out the 'new'. The distinguishing mark on the 2.4ml watch is that the outside surface of the glass that covers the dial is printed, not the dial itself, which is unusual.

W*: There's a clear authority in the Fortis 2.4ml design – does it indicate a sense of order in rapidly changing times; a poetic reference, perhaps?
RS: With any creation, there are many individual associations and interpretations that arise, although in this instance, the driving force behind the 2.4 ml watch was more instinctive. I welcome that some will perceive the piece philosophically and others more rationally: the object will have a different personal sensitivity for each individual.

W*: What was most challenging aspect in realising your design?
RS: Adapting the process of 'ambering' (which is the typical printing technique used on scientific flasks) to print the scratch-resistant artwork directly onto the surface of the watch glass was a considered process. It is a technical feat but the artwork on the small circular glass is applied by hand. Dipping it in amber stain and baking it a high-temperature industrial oven results in slight variations in finish and colour, giving each limited edition a point of difference.

W*: The 2.4ml has a distinct visual aesthetic. Tell us about the colour palette.
RS: The colours and finishes were selected to mirror the visual language of a scientific laboratory. The watch case and hands are steel, the silicone strap is the distinctive orange-red that can be found on rubber bungs and pipette fillers, and the glass is amberised to give a 'completed' aesthetic.

W*: Now that you have designed a few watches for Fortis, do you envisage the eponymous Rolf Sachs watch at any point?
RS: My passion for experimentation drives me to continuously explore and change my approach to any creative process and I always seek to inject character and emotion into what I do. So, whether sculpture, furniture, stage or light design, or architecture, I welcome new challenges. However, watch design will continue to tickle my mind!
INFORMATION
For more information, visit the Fortis website (opens in new tab)