Watch this! Bethan Gray unveils her first wearable design, with Swiss marque Rado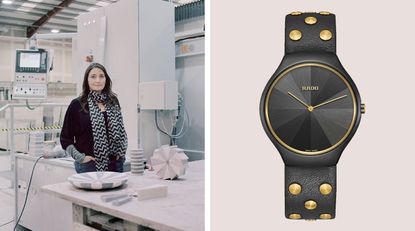 (Image credit: Pino Musi)
As any product designer-turned-watch collaborator will admit, working on a micro scale poses challenges way beyond their knowledge. As she launches a watch design in collaboration with Swiss watch-tech innovators Rado, the British furniture and product designer Bethan Gray is the latest to make the micro grade.

The True Thinline Studs is Gray's play on a core Rado model, which is also – no surprises here – the brand's thinnest timepiece. But that geeky note is significant because it highlights the rare quandary of fitting multi layers of materials and technology into a 5mm-deep matt-black ceramic case.

A limited-edition series of 1000 and 1 (being Gray's own timepiece), the watch reflects the designer's 'Studs' furniture collection, where warm-tone metal detailing creates a frame for lush, leather-based tables and mirrors. The bezel around the dial is framed by a fine golden halo, while a golden dot adds depth to the crown. Nineteen golden PVD-coated steel studs rivet the strap.

Gray said she viewed her design 'as having a contemporary, more nuanced understanding of femininity'. Indeed, it constitutes a surprisingly fashion-forward approach and a subtler, shimmering version of her signature graphic marquetry. The purity of the dial is offset by the grained-leather strap, which Gray insisted replicate the 5mm depth of the dial, so that the watch almost feels like a bracelet on the wrist. The smoothly integrated PVD-coated steel and ceramic folding clasp is dedicated to comfort but is a nonetheless nice design touch. The titanium caseback, meanwhile, reduces an already lightweight form further.
'Studs' coffee table in black leather with brass metal detailing, by Bethan Gray. Photography: Courtesy of Bethan Gray
By metallising the logo directly onto the underside of the sapphire crystal that covers the dial, it appears to hover, so that the face remains satisfyingly pure. In fact, the dial became the most collaborative aspect of the project. The silvery marquetry pattern Gray desired prompted a unique solution from Rado's engineers, for whom the parameters of depth were a key factor. Their solution was to compose an ultra-thin master dial by way of joining 12 segments of metal together, suspending them in an electrolyte solution and applying a current to form a replica whole.

With its almost perfect masculine-feminine ratio, the True Thinline Studs emanates an up-to-date female appeal that continues to elude the design departments of many a fine-watch brand. Gray freely admits that prior to designing her own, she had stopped wearing a watch in favour of Smartphone time. In fact, the Rado collaboration has led to something of a personal epiphany: 'I've designed a watch that I want to wear every day. There are no distractions. It tells the time. It goes with everything – I'm beginning to wonder if it might even slow time down a little.'
INFORMATION
For more information, visit the Rado website (opens in new tab)