Jaeger-LeCoultre brings technical precision to guilloché dials
Humans have the upper hand at Jaeger-LeCoultre, where artisans control historic machines to give precision detailing its edge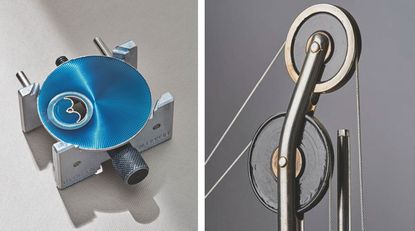 (Image credit: Benoit Jeannet)
Decorative horology techniques can sometimes come across as a luxury add-on, a veneer of value to an otherwise ordinary watch dial. But the truth is, manual methods can produce results that programmed machines just can't match. Guilloché – a very precise form of patterning – is one such art. This is why watchmakers such as Jaeger-LeCoultre, in Switzerland's Vallée de Joux, are so careful to nurture experts whose particular feel for centuries-old crafts can make all the difference.

At the company's Rare Crafts Atelier, in its HQ village of Le Sentier, up to 30 experts are collaborating at any time on a range of craft techniques, including enamelling, engraving, gem-setting and guilloché work. This last technique uses heavy, engine-turning lathes, set up to cut repetitive patterns. The skill comes in the maintenance of a perfectly regular cut, which depends on the operator having an acute feel for the material under the cutter; the regularity is achieved by making constant, almost imperceptible adjustments of pressure as the tool bites. The size and weight of the machines ensures absolute stability, and because each plate or dial has minute, unpredictable variations, the process relies on experience gleaned over years at the job. It takes almost unreal levels of concentration.
However, Murielle Romand, Jaeger-LeCoultre's in-house – and sole – guillocheur, is nonplussed by the respect accorded to her work. 'I find it relaxing,'she says. Romand joined Jaeger-LeCoultre in 1997 and, having previously studied micromechanics, took the decision to focus on the guilloché technique five years ago. Today she also trains an apprentice. Fine watchmakers such as Jaeger-LeCoultre are working hard to attract young people to rare artisan ateliers, lest skills such as Romand's disappear with time.

She works between two traditional, restored machines, one of which is set up for circular cutting and the other for linear patterns. The designs emerge from a collaborative process between the watch designers, technicians and fellow craftspeople: guilloché is often overlaid with enamel, for instance, another time-consuming technique that requires master precision from all involved.

Nevertheless, Romand has responsibility for the precise size and pattern and is the ultimate designer of any guilloché pieces the house produces. The special edition 'Hybris Artistica Ivy' watch, for which she applied the guilloché to the dial's micro-miniature leaves, highlights not only the level of her skill but how far the watch house will go to make use of its talent.
'What craftspeople like Murielle achieve in a material is all about personal feel,' says Stéphane Belmont, Jaeger-LeCoultre's director of heritage and rare pieces. 'We can't get that with [an automated] machine.' And he should know. Belmont admits that, some time ago, the house tried to automate the guilloché process for a watch design in an attempt to control enamel over-owing the dial during ring.

'Using a machine, we could control the enamels onto the edge, but the decorative effect was flat – the surface of the dial was not shiny enough, the impressions were not good, and the light effect was poor. We noticed that the older [manually controlled] machines were better, and so we did trials and saw very different results.' So, while the focus returned back to the craft machines, the watchmaker focused on developing a laser-cutting solution to trim the excess enamel where needed (the tolerances required to ensure water-resistance being fractions of a millimetre).

When Romand is at the wheel, Belmont says, the result is consistent: 'Murielle's technique means the result is the same every time – she cuts the same line three times, the pressure and speed is her own. The results are unique.'

There's also a life in the finished dials that reflects Romand's passion, 'I'm happy to work on beautiful, fascinating machines. I'm proud to be the only one.'
INFORMATION
This article originally appeared in the September 2020 issue of Wallpaper* (W*257)