Celebrating a century of Italian jewellery design: the Bulgari Tubogas watch
Made famous by the Bulgari Serpenti watch, the Tubogas is a design icon in its own right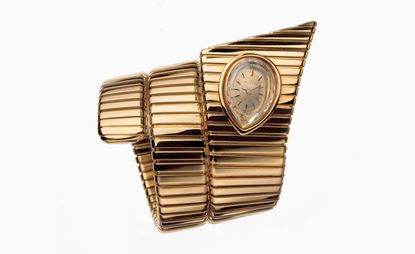 (Image credit: press)
The idea of transforming every day, found objects into something a little more precious is common enough in watch and jewellery design. Take the Panerai dials that descend directly from machine gauges the company made for the Italian Navy, or Cartier's Juste un Clou – a design directly descended from the common, household nail. But for sheer surprise value, Bulgari's Tubogas takes the crown.

Quite literally derived from a flexible covering designed to protect gas pipes, Bulgari adopted the idea from a technique that had gained traction with jewellers in the 1940s, returning to it more wholeheartedly in the early 1970s. Today, Tubogas is an integral element of Bulgari's design identity.
The springy bands that define the Tubogas style are created by wrapping profiled strips of gold (and sometimes steel) around a wooden form so that the edges interlock in a continuous, unsoldered curve, with the result being that the design is both incredibly flexible and strong. It's a technically demanding operation that requires a jeweller's complete control over the temperature, particularly when more than one metal is involved.
The Tubogas concept quickly proved to be as flexible and adaptable as the name implied, with Bulgari's jeweller-technicians creating suites of bracelets, chokers, cuffs and collars, frequently using different coloured metals and contrasting the modernity of the form with ancient coins and intaglios.
But as a wristwatch, in the open-coil style that determines the better-known Bulgari Serpenti, the Tubogas retains its early avant-garde nature, with designs featuring contrasting finishes that capture the spirit of the times in which they were made, and others that allow the watch head to take precedence.
The Bulgari Tubogas, then, is the perfect mix of distinctive design and artisanal skill, entirely in keeping with a design culture that seemed never to acknowledge a division between the beautiful and the practical.
INFORMATION