How Italian futurism propelled Buccellati's 1930s Hawaii design
The rapid onset of industrialisation fuelled an Italian jewellery classic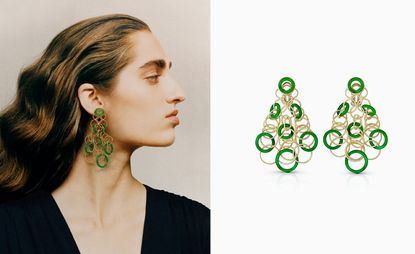 (Image credit: James Robjant)
Wallpaper* Newsletter
Receive our daily digest of inspiration, escapism and design stories from around the world direct to your inbox
Thank you for signing up to Wallpaper. You will receive a verification email shortly.
There was a problem. Please refresh the page and try again.
Born during the Italian Futurist movement of the 1930s, Buccellati's Hawaii design has survived almost a century of change to become a house classic. As well as being a master goldsmith, founder Mario Buccellati, who established his business in 1919, at the Largo Santa Margherita in Milan, was an elegant draughtsman with a graphic eye, a deft touch and a strong interest in modern art.

Fuelled by the early 20th century paintings of Giacomo Balla – energetic abstract representations of rapid industrialization, with graphic repetition depicting a sense of speed – Mario Buccellati was propelled to create a jeweller's response. At a glance, his Hawaii neck chain of fine gold circles, each made from hand-twisted gold thread (as they are today) looked like a continuous tangle of industrial wire. Yet the links were so beautifully crafted, as to be light as air and easy to wear: the ultimate in precious engineering. Mario had based his idea around the 'Lei' - the Hawaiian flower garland, placed around visitors' necks as a cultural symbol of affection.
The jeweller's curiosity in art techniques also led to a passion for the impossibly intricate decoration of the Renaissance era , and he began to work with ancient tools to create hand-engraved patterns on gold, working metal as if it were cloth. What developed was a signature style that made gold appear, almost magically, as woven silk or lace. Buccellati still operates a studio of old and young gold-workers near Lake Como. They hand-smelt, file, polish and engrave to levels that should be at odds with the modern world, but in fact, their hard-won mastery allows centuries-old traditions to link seamlessly into contemporary designs.

The Hawaii design was revived in the 1960s, for the casual fine-jewellery wearer and, by the 1970s, earrings were added to the collection, along with other precious materials, including gemstones and pearls. The oversized Hawaii Cascade earrings, pictured here, were the 1990s interpretation of the design, their sizeable form heralding the super-savvy design lead of Andrea Buccellati, another of Gianmaria's sons, who is currently president and creative director of Buccellati. With green jade circles intermingling with the traditional hound-wound gold ones, the Cascade design sums up the contemporary essence of a deeply cultural Italian tradition.
INFORMATION
Receive our daily digest of inspiration, escapism and design stories from around the world direct to your inbox