Drive by: Cartier's horological gear change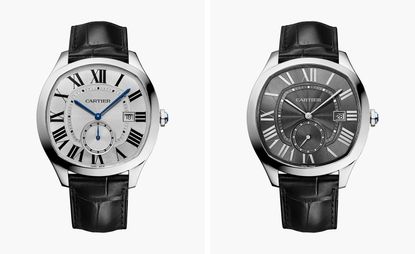 (Image credit: Drive de Cartier)
This year, Cartier has changed direction and, in the process, has embarked on a bout of soul-searching.

Is Cartier a technical watchmaker? Or, is the French maison behind the unmistakable Tank and Santos watch designs, at its heart a creator of the world's most stylish watches for the world's most sophisticated people?

For the last 10 years, Cartier has been trying to convince us it can be both. Through its Fine Watchmaking Division, which kicked into gear in 2006, it has sought to underline technical prowess by producing the kinds of complicated watches that appeal to horological aficionados.

But then, the idea of men in white coats in Swiss watch manufactures fussing over the isochronism of a carbon crystal-cased Astrotourbillon didn't fully sum up the particular Parisian flair associated with the Cartier name. Now it seems to be reverting to what it has always done best – making design-oriented watches brimming with French savoir-faire.


Against that backdrop arrives the Drive de Cartier, by all counts the most Cartier watch of recent times. It's not just that it carries all the house codes – sword-shaped hands, Roman numeral dial, the IIII at four o'clock, sapphire cabochon set into the dial. It's that, at its core the Drive is a stylish dress watch that also doubles up as an everyday fine timepiece.

Launching the watch during Pitti Uomo in Florence this year was a savvy move: the offbeat looks that define the Italian menswear shows mirror, somewhat, Cartier's particular take on style. And, that the automatic Drive starts at an elegantly priced £5,000 in steel, is a good mid-market fit.

Cartier's investment in technology won't hurt it in the long run, however. Watch buyers are more concerned by what's inside a watch now than they were ten years ago. But, powered by the brand's own Calibre 1904-PS MC and packaged in a fittingly handsome case, the Drive is akin to new-generation classic – in otherwords, it's exactly what you'd expect a Cartier watch to be.
INFORMATION
For more information, visit the Cartier website (opens in new tab)