From the vault: Jack Heuer revisits the Heuer 'Carrera'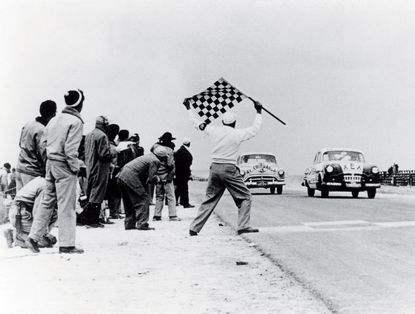 (Image credit: TBC)
Jack Heuer created the 'Carrera' watch in 1963. As TAG Heuer gears up as official timekeeper for the Goodwood Festival of Speed, here the watch designer reveals the design thinking behind a horological great...

The object: I loved the sexy sound of the word 'Carrera' but also its multiple meanings, which include road, race, course and career. I registered the name under 'Heuer Carrera'. At the time, with the company's future effectively in my hands, I was committed to developing new products and I decided that the next product I would design would be called the 'Carrera'.

The provenance: In January 1962 I was invited by the SCCA (Sports Car Club of America) to attend the 12-hour race at Sebring in Florida. I had lent the organisers a dozen Heuer pocket chronographs with split-second displays for the official timing of the event. What impressed me most of all was the mix of professional road racing pilots, amateur gentlemen drivers and spectators: the German Jochen Rindt, Augie Pabst from the Pabst brewery family and the actor Paul Newman among them. It dawned on me there and then that this group of motor racing enthusiasts was a natural target client group for Heuer, both for our wrist chronographs and for our rally timers.

The design details: 1963 was one of the most significant years in my career, as it was the year in which I designed my first 'Carrera' chronograph. During my student years I had become a great lover of modern design, names like Le Corbusier and architects such as Eero Saarinen and Oscar Niemeyer. I was a great fan of the furniture designed by Charles Eames. As a student I even managed to save enough money to buy an Eames lounge chair, although it did look a bit out of place when I put it in my rather shabby student digs in Zurich. When I started thinking about the 'Carrera', it was an opportunity to put my own design principles into practice.

The signs of the times: In the 1960s, a manufacturer of plastic watch crystals (the transparent cover that protects the watch face – no sapphire crystals existed then) had invented a steel tension ring that fitted inside the crystal, which increased water resistance. I decided to use the inside bevel of this tension ring to carry the markings measuring one-fifths of a second. Now, the flat dial surface no longer had to carry these markings – and this was the secret behind the fresh, clean and uncluttered appearance of my first 'Carrera'.

The now factor: I could not for the life of me remember whether I had created the first 'Carrera' in 1963 or 1964. But two private chronograph collectors in the US discovered a 'Carrera' with an engraved serial number confirming a production date of 1963. Today, the TAG Heuer 'Connected', the first connected watch developed by a Swiss luxury watchmaker, features the immediately recognisable design codes of the TAG 'Carrera'.
INFORMATION
For more information, visit the TAG Heuer website