Time talk: UK's coolest watch designer showcases unique new collection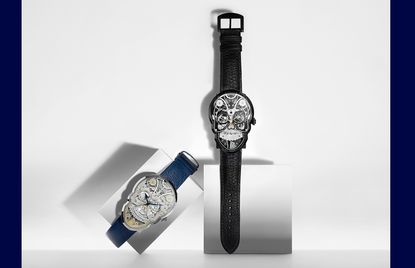 (Image credit: Fiona Krüger)
Fresh from staging her first Baselworld exhibition alongside the big-gun independents, such as MB&F and HYT, this week, Scotland-born watch designer Fiona Krüger unveils a month-long solo exhibition of her pieces at Harrods. And if it seems that she is fresh on the scene, like any horologist worth her salt, Krüger has been working towards this breakthrough moment for a long time.

To return to the beginning, Krüger had been well on her way to becoming a fine art academic when a brush with haute horology changed her course. During a one-year masters at the ECAL university of art and design in Lausanne, Switzerland, Krüger came across watchmaker Audemars Piguet, a course sponsor.

'I'd never heard of them,' she recalls. 'I didn't know anything about watches – the differences between mechanical and quartz – nothing.' Cue a later trip to the Patek Philippe museum – where she discovered a watch shape 'could be anything you imagined' – and the bug was firmly caught. She fused her new-found love for horological history and her own fascination with time and mortality – and launched her first skeletised 'Skull' timepiece in 2013.

Inspired by a 17th century timepiece known as the Mary Queen of Scots' 'Skull watch' and Mexican Day of the Dead celebrations, Krüger has stayed true to her theme. Where the debut 'Skull' was highly mechanical in style – its hand-painted, gold lacquer details mirroring the underlying movement – her second, the 'Black', was more aesthetic. Strongly graphic with a hand-painted supernova that glows in the dark, it is multi-dimensional and, like all her watches, has a deep, edgy vibe.

In contrast, the eye-poppingly bright 'Celebration' model is a joyous homage to life, its vibrant colours each linked to their original meanings in the Dia
de Los Muertos – while further reflecting Krüger's own memories living in Mexico as a child. Supernova details again transform the watch into a subdued number come night, giving it a genius split personality.

Finally, her latest 'Petit' series, on show at Harrods, takes on a time-honoured, decorative technique: guilloché. Working with varied patterns, the result is highly sculptural and – in their diminutive sizes – extra precious.
INFORMATION
Fiona Krüger's pop-up exhibition will be on view at Harrods until 27 April. For more information, visit Krüger's website (opens in new tab)