Chanel's new watch releases mark the start of a notable horological chapter
Stop! It's Chanel time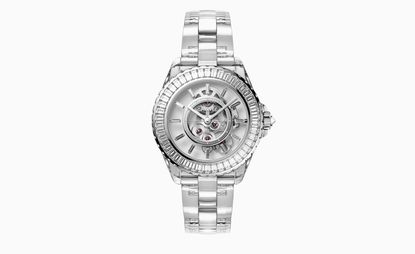 (Image credit: TBC)
Chanel horology points to the future of contemporary fine-watch design with a 2020 collection brimful of wit, elegance and exceptional savoir faire. Here's our pick of the best.
Coco Clock
When there is time to fill, who doesn't want a twinkling Mademoiselle Chanel pointing to the passing of the hours from their mantlepiece? You might be perplexed at the very idea of even owning a mechanical clock today, but we are hugely enamoured by the idea of the 'Coco' clock. It's a beautiful piece of mechanical engineering – the openwork movement at the back is handsomely designed. And, in these testing times, it brings a much-needed soupçon of humour, a cheeky flash of glamour and a witty inversion of the gold carriage clock design, traditionally presented to frazzled business executives on their retirement. Changing times indeed.

J12 X-Ray
There's no time like the present. Created in a limited-edition of 12, the X-Ray is a near-impossible feat of engineering, made, as it is, almost entirely of sapphire crystal – excepting the buckle, white-gold bezel and diamond dial-markers. The J-12 X-ray dial is milled from sapphire crystal, set with baguette-diamond hour markers. The overall effect is a see-through view of the Chanel Caliber 3.1 skeleton movement, with timer bridge, plate and gear-train bridge also created in sapphire. It comes with something of an impossible price-tag, too, clocking in at around half-a-million pounds. As a display of technical intent, however, the X-Ray is an audacious horological move for Chanel. And, true to form, a highly wearable one, too.

Code Coco Pixel
We always said that the streamlined 'quilted' bracelet design of the original Code Coco gave the watch a particularly pixelated look, though quite whether it was a deliberate design move is hard to fathom. What we do know, though, is that this year's Code Coco Pixel underlines the point, heightening the futuristic feel of the bracelet watch with a diamond-set code motif. The handbag-clasp 'lock' system has a secret undertone, enabling the wearer to cover the dial and hide the time at will. It's a classic symbol of the inventive, contemporary style that Chanel is bringing to 21st century women's watch design.
INFORMATION