Gilt trip: the Royal Oak gets a magical Florentine finish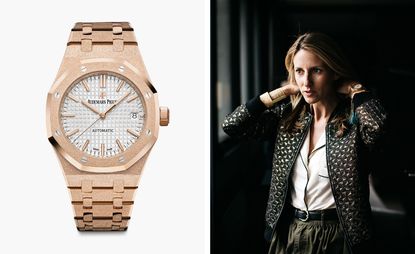 (Image credit: Carolina Bucci)
It was a match made in Florence. When Audemars Piguet wanted to mark the 40th anniversary of the women's Royal Oak, they turned to Italian jewellery designer – and dedicated Royal Oak wearer – Carolina Bucci.

Known for her everyday approach to fine jewellery and precious coloured stones, London-based Bucci is the fourth-generation of a traditional Florentine family jeweller. Her pieces are crafted at the family workshops in the Italian city. It's also where she developed her other key design signature, a gold technique known as the 'Florentine finish'.

Created using a diamond-tipped high-pressure drill, which blasts indentations into the metal, the gold takes on a shimmering quality that is akin to yet bereft of pavé diamonds. It was this that sparked the link with Le Brassus marque Audemars Piguet, who has a history of creative finishing in metals and who adapted the technique to create its new women's watch – the Royal Oak Frosted Gold.

Applying the finish to the geometric lines of arguably the most hallowed watch design of modern times – Gérald Genta's Royal Oak – was not without its problems. The design of the watch, with its instantly recognisable 'bolted' octagonal bezel is complex, as watch designer Jacqueline Dimier attests: 'The bracelet is made up of many elements and is a super complicated design,' she says.
One of few women watch designers of note, it was Dimier's job to reinterpret Gérald Genta's original 1972 design for women when she arrived at Audemars Piguet in 1976. The brand is also celebrating her achievements as a designer this year.

The finished design took two years to develop. Teams at Audemars Piguet's specialist finish workshops in Geneva conducted an ongoing exchange with Bucci's jewellers in Florence. Likewise, Bucci pored over Audemars Piguet's archives in Le Brassus, and they all got busy on Facetime and Skype.

'After the first attempt the sparkle was beyond but the feel was so rough to the touch you couldn't wear it,' recalls Francois-Henry Bennahmias, Audemars Piguet CEO. 'Then we decided to try a softer approach but the gold lost the shine and the sparkle. We had to go back seven times to work out the exact depth of impact on the gold.'

As Bucci says, it's not the same when applying the technique to a watch as you would to a jewellery design. 'It's very different, from the surface to the depth of metal – and our alloys are not the same. But also from a functional point of view, the constant moving parts of the watch bracelet meant they needed to work and not grind together, so the angles had to be adjusted. It was really a puzzle.' Audemars Piguet also had to develop the technique so that every hand-decorated edition of the watch design had a uniform finish.

'Really, we're fusing two very opposite concepts,' Bucci offers: 'Precision and mechanics with a finish that is perfectly imperfect.'
INFORMATION
For more information visit the Audemars Piguet website (opens in new tab)