Arctic Bath — Lapland, Sweden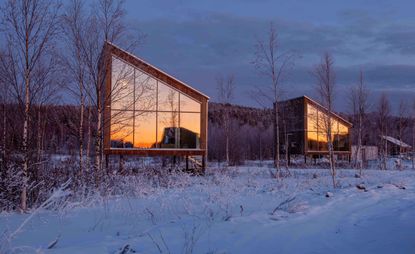 (Image credit: press)
The much-anticipated opening of Arctic Bath, on the frozen River Lule in snowy Swedish Lapland, more than lives up to its hype.
Taking centre stage is the main hub, a circular structure topped with a wooden crown of thorns, which architects Bertil Harström and Johan Kauppi have designed as a re-imagined timber jam from the river's timber-floating days. This surrounds an open-air cold bath and also houses the spa and the restaurant.
Here, pine walls, Baltic grey limestone floors, and furniture from brands such as Stolab, Blå station and Swedese set the tone for a menu from chef Kristoffer Åström, who tapped into his Sámi culture with dishes like smoked capercaillie with Gahkku (Sámi flat bread), arctic char with a sorrel sauce, and moose tournedos topped with shavings of moose heart- all served on off-white ceramics from local firm MOKK.
There are six water cabins (three on either side of the central hub), while another six land cabins (these designed by AnnKathrin Lundqvist) are set back from the river and offer split-level accommodation. Inside, a neutral, raw colour palette is provided by sheep skins, wool, wood and leather detail illuminated by wood pellet burning fires and bespoke lighting by Atelje Lyktan.
The spa offers treatments using tailor-made products from skincare brand Kerstin Florian, while organic own-branded, swimwear is provided for the must-do saunagus ritual involving a sensational dip, under the stars in the open-air arctic bath.
INFORMATION
ADDRESS
Ramdalsvägen 10
960 24 Harads
Sweden
VIEW GOOGLE MAPS (opens in new tab)