Little Beach House — Barcelona, Spain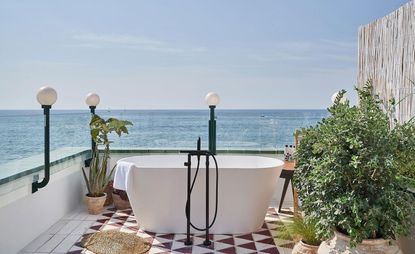 (Image credit: press)
The Platja de Garraf is a secluded, crescent-shaped, slice of beach situated 32 kms from Barcelona, or 30 minutes journey by commuter train. A row of pert little art deco-style green and white beach shacks attract the odd architecture tourist, but mostly it's a laid-back, family destination with pedaloos and gentle lapping waves – until now. Always one to seek out interesting properties, Nick Jones – founder of Soho House Group – has seized upon a small 1950s-built hotel here for his latest members club: Little Beach House.
Built on the sands in the 1950s before Spain's stricter coastal zoning laws came into effect, this hotel has been rundown and visibly neglected for decades, although it was still appreciated by some for views of the sea, so close you could cast a rod from the rooms' balconies at high tide. The original split-level layout of the hotel has not been altered, and continues to offer 17 rooms and two outdoor terraces, with an additional rooftop terrace currently being assembled. Soho House's design team has worked magic with the décor, weaving a luxurious, vintage-tinged ambience with a wide range of natural local materials – rattan, timber, hessian and Moroccan tiles – in colours that sway from sage green to sunny yellow.
Some guests maybe put off by the absence of a pool, but should be swayed by the hotel's cosy restaurant, where you can choose your seafood meal – from giant prawns pan-fried in rock salt to pungent pescadito – from a glass showcase next to the open kitchen.

Little Beach House rooms and restaurant will be open to non-members during off-season periods.
INFORMATION
ADDRESS
Carrer Mirador del Port 1