Pierre Yovanovitch designs the new interiors for Hélène Darroze at the Connaught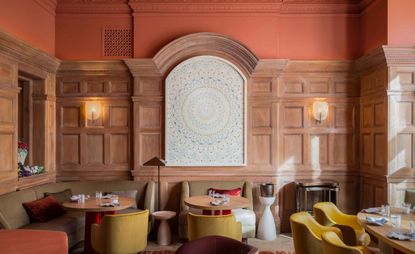 (Image credit: Jérôme Galland)
In the decade since it opened, Hélène Darroze at the Connaught has become a much-loved London institution, its food - drawn from seasonal and regional produce - consistently excellent. But, while its original setting was elegant, over the years, it had become a little staid, much like the butterflies within the Damien Hirst artworks that grace the oak-panelled walls.
Now, following a two-month overhaul by Pierre Yovanovitch, the design virtuoso known for interior projects and collectible furniture alike, the restaurant has re-opened to much applause. Though Yovanovitch hadn't previously met Darroze, he found an immediate affinity with the chef, not least because both of them hail from the south of France, and built their reputation on modernising and elevating time-honed crafts. 'She's a strong woman, but also very nice, and very generous,' he remarks.
Her charm and generosity are reflected in Yovanovitch's design, which is refined yet unpretentious. Within the main dining room, the first thing that one notices is the refreshing colour palette. The oak panels have been lightened, and the ornate plaster mouldings have been painted over with a warm gradient colour, reminiscent of a winter sunrise. There's a soft carpet underfoot, in solid beige but fringed with spirited, brushstroke-like lines – a Yovanovitch design, made by Manufacture de Bourgogne.
The carpet makers are one of many long-time collaborators whom Yovanovitch has called on to create custom pieces. The ceramicist Armelle Benoit created tactile elements for dining tables and waiter stations, while glassblower Matteo Gonet worked on the chandelier, which has bulbous sconces sprawling out, tentacle-like from a lacquered blue steel frame.
Elsewhere, the banquettes have been given sensuous curves, horizontal surfaces take on rounded abstract shapes like parts of Calder mobile, even the plaster occasional tables have hourglass forms. Best of all, many of the furniture legs bulge slightly outwards at the base as though they're hooves. The velvet and leather upholstery, in salmon pinks, bright yellows and pale greens likewise give the space a playful energy.
Downstairs, the chef's table comprises a single boomerang-shaped table with a travertine top and patinated steel base. Bespoke chairs line the longer edge only, so each of ten diners is offered a cinematic view of the adjacent kitchen. Above the grey terrazzo floor and fluted pine wall panelling is a ceiling fresco that Yovanovitch commissioned to the French artist Rochegaussen. Titled 'Les ustensils du ciel' it portrays an array of kitchen tools interspersed with an occasional bird, their simple lines conveying a child-like wonder.
With its wealth of unusual touches, the new Hélène Darroze at the Connaught feels more like the private home of an illustrious, yet eccentric relative rather than a fine dining establishment, which is precisely the point. Whereas connoisseurs from near and far once came for the exceptional food, they will now be drawn in by its imaginative interiors too.
INFORMATION
ADDRESS
Carlos Place, Mayfair
VIEW GOOGLE MAPS (opens in new tab)
TF Chan is a former editor of Wallpaper* (2020-23), where he was responsible for the monthly print magazine, planning, commissioning, editing and writing long-lead content across all pillars. He also played a leading role in multi-channel editorial franchises, such as Wallpaper's annual Design Awards, Guest Editor takeovers and Next Generation series. He aims to create world-class, visually-driven content while championing diversity, international representation and social impact. TF joined Wallpaper* as an intern in January 2013, and served as its commissioning editor from 2017-20, winning a 30 under 30 New Talent Award from the Professional Publishers' Association. Born and raised in Hong Kong, he holds an undergraduate degree in history from Princeton University.