Designer Robin Falck designs a zero impact mobile cabin in Finland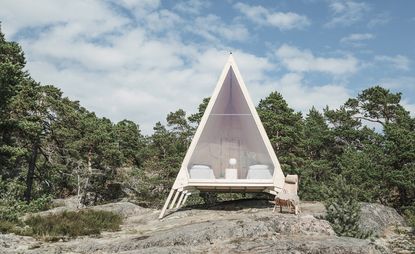 (Image credit: press)
Cabin life and getting back to nature are a national pastime in Finland but paradoxically not always devoid of environmental impact. Local designer Robin Falck has teamed up with Finnish energy company Neste to show how things could be different with the Nolla cabin.
Meaning 'zero' in Finnish, Nolla is a modular and low-maintenance mobile nine-sq m cabin currently installed on the island of Vallisaari, a 20-minute ferry ride from the centre of Helsinki. Made out of Finnish fir plywood and an innovative laminated veneer lumber it can be flat-packed or transported with ease and assembled without machinery or the need for foundations.

Falck, who previously designed compact getaway cabin Nido, describes himself as an 'aggressive minimalist'. He lined one side of the cabin's pitched roof with solar panels (which power the two lamps and the USB phone-charging point inside) and clad the other with a mirror to deflect the sun and encourage evening cooling (it also reflects the dramatically shifting landscape throughout the day: an unintentional but welcome benefit).

Inside things are also kept to the essential, with two simple cots, sumptuously soft bed linens and towels from Stockmann's sustainable collection, a side table, and a small but hi-tech eco diesel Wallas stove for cooking and heating.
Its most captivating feature is undoubtedly the fully glazed facade that looks out on to the ever-changing Helsinki archipelago and panorama of islands, rocks, wildlife and sea. With a view like this you won't even remember the digital screen in your pocket.

Nolla is available to rent throughout September on Airbnb but sold out within 90 minutes. If you want to experience it for yourself Falck will be selling the designs for a modest fee and says it can be made with leftover veneers or even old floorboards and insulated for winter use. In the future he would like to see 'Nolla become part of a national park lodging programme where these sustainable shelters are spread out in some of the country's most beautiful places.' One can only hope that this happens.
INFORMATION
For more information, visit the Neste website (opens in new tab)