New members club Apartment 58 launches in London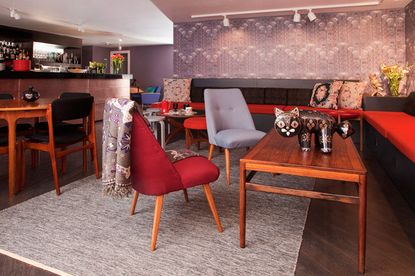 (Image credit: TBC)
London's Soho has got itself another members club. With a difference. Located on 58 Poland Street, Apartment 58 (opens in new tab) is a high-tech home away from home concept for creatives, brought to us by the man who established The Notting Hill Arts Club (opens in new tab) and boutique bar, Cherry Jam (opens in new tab), Members can use it as their personal pied-à-terre, let themselves in with their own key, host sample sales or launches in it and even use it as a place to pick up their mail. Founder Alan Grant has ambitious plans for the club's future. Here, we catch up with him to find out more.

What inspired the Apartment 58 concept?

When you start developing a concept you often begin by imaging an environment you'd like to work and play in. For us, that is a space you feel at home in, but is also fun and inspiring.

Why do you think there is a need for a 'creative hub' like this?

For most creatives, work is their life, not something separate. They don't want a stuffy environment to work in and they also like to socialise and bounce ideas off each other after office hours. I think people are able to be more creative and collaborative when they feel comfortable and at ease.

What do you think are the best features of Apartment 58?

The space is open plan but divided into areas. There is a meeting area and dining room with a big boardroom table but I don't see why people couldn't also have productive meetings sitting on a sofa.

How are you planning on acquiring your clientele?

By private invitation only. Friends can invite their friends to join the Apartment network.

Why did you choose Mia Wallenius for the interior design and what brief did you give for the space?

The idea was for it to look personal, like an imaginary character's London Soho apartment. Mia Wallenius was part of the creative team of the temporary Finnish restaurant and design exhibition 'Hel Yes (opens in new tab)!' and we really loved her vision. She doesn't just design a beautiful space, but wants to create an experience. The interior needed to be comfortable and functional but also unique and inspiring. Mia sourced us a selection of vintage furniture, made-to-measure pieces and contemporary furniture as well as lots of great special edition prints by her design brand Klaus Haapaniemi (opens in new tab).

Are you planning to extend the concept internationally?

Three Apartments will open in London in 2012, located in the creative hubs of Soho, Notting Hill and Shoreditch. Further Apartments are scheduled to open in Paris, Milan, Berlin, New York and Mumbai by 2015, creating a global network. Mia, our creative director, and will oversee all Apartments.
ADDRESS
58 Poland Street, W1F 7NR
44.20 7734 6611
www.apartment58.com (opens in new tab)
VIEW GOOGLE MAPS (opens in new tab)