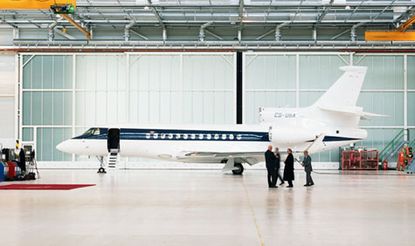 (Image credit: press)
The sky's the limit when it comes to private air travel, but NetJets Falcon 7X, designed by the Pritzker Prize-winning architect Lord Foster is a cut above the competition and a clear winner of our Best business jet award.
See Lord Foster's sketches for the 7X and pictures of the finished jet's interior (opens in new tab)
Foster, himself a NetJets customer and experienced pilot no less, was initially approached by NetJets Europe to design just the interiors. Such was his enthusiasm for the project he quickly assumed responsibility for the entire package. And such was the success of the results NetJets have subsequently taken on his designs as the livery for their new fleet of 160 aircraft.
As you'd expect from an architect of Foster's standing, no detail has been left undesigned. His comprehensive sketches for the 7X are a riveting insight into how seriously the seasoned pilot and customer takes his craft. With directives like "explore soft floor in the cockpit galley (crew fatigue)" and "consider backlit mirrors with light perforations to rear sanitary unit", here's a man who understands how to combine minute practicality with extreme luxury.
One of our favourite details though, apart from the seatbelt buckles (black nickel for crew, regular nickel for cabin), is the book given to owners and shareholders of the Falcon 7X. Specially commissioned by NetJets and published by Ivory Press, founded and run by none other than Lady Elena Foster, the book's not just a manual pointing out the nearest exit, it's a treasured tome in homage to travel.
Aptly named 'Horizons' it contains a carefully curated selection of photographs by renowned travel photographers such as Lala Essaydi and Ellen Kooi and articles by the likes of Mario Vargas Llosa and Alvaro Mutis. A separate insert of Lord Foster's complete sketches from the design process of the Falcon 7X is also part of the package.
'Horizons' will be unveiled at the Beyeler Museum during Basel World in March - from start to finish an award-worthy project in itself.
Melina Keays is the entertaining director of Wallpaper*. She has been part of the brand since the magazine's launch in 1996, and is responsible for entertaining content across the print and digital platforms, and for Wallpaper's creative agency Bespoke. A native Londoner, Melina takes inspiration from the whole spectrum of art and design – including film, literature, and fashion. Her work for the brand involves curating content, writing, and creative direction – conceiving luxury interior landscapes with a focus on food, drinks, and entertaining in all its forms