Ritage Signature — Beirut, Lebanon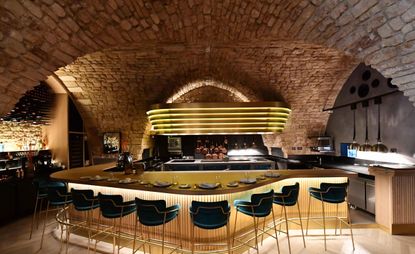 (Image credit: TBC)
A pop-up before it moved to the garden terrace of its Lebanon Street location last year, Maroun Chedid's fine dining restaurant, Signature is finally open.
Located in 800 year-old vaulted stables that were first painstakingly restored, architect Issam Barhouch was asked to bring the space up to date.
This he did whilst respecting the historic surroundings, introducing floating elements like the sculptural wood and brass open kitchen tucked into one of the arches, and minimalist lighting that brings out the golden sandstone glow.
A celebration of Mediterranean dishes, subtly 'Lebanised' with the addition of local herbs, spices and other ingredients, many of which are available in Chedid's line of traditional food products named after his mother, Georgette, Signature marks the Beka'a-born chef's boldest foray onto Beirut's demanding dining scene, after successfully creating menus for a number of local restaurants, including the first Middle Eastern outpost of Paris' Les Caves Taillevent.
ADDRESS
Lebanon Street
Monot