Hotel Grace La Margna St Moritz reopens as the perfect luxury Alpine retreat
Hotel Grace La Margna St Moritz returns after an intensive renovation by Divercity Architects and interior designer Carole Topin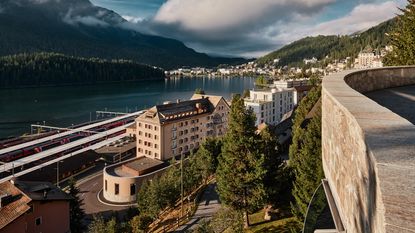 (Image credit: Courtesy of Divercity Architects)
A timeless gem on St Moritz's high street, Hotel Grace La Margna St Moritz, has reopened its doors after an extensive transformation. The revival, led by the acclaimed Divercity Architects (previous hotel projects include Noūs Santorini, for example) in collaboration with French interior designer Carole Topin, pays homage to the luxury hotel's cultural heritage while embracing a modern vision.
Hotel Grace La Margna St Moritz, timeless yet modern
Originally envisioned in 1906 by Swiss architect Nicolaus Hartmann, Grace La Margna St Moritz is a symbol of Alpine craftsmanship and Engadin Art Nouveau architecture. Nikolas Travasaros, founder of Divercity Architects, explains, 'Keeping typical components of Alpine resorts, we quickly decided to introduce some catalyst moments to spark an element of surprise and add to the timeless and sophisticated feel of the hotel. It doesn't have to be one or the other; it's a conversation through time and space.'
Catering to 21st-century demands, Grace La Margna St Moritz delivers an interplay of historical and contemporary architecture. The new wing, adorned in beige Moleanos limestone, pays homage to the original façade's beauty, and a winter terrace acts as a connecting bridge, merging the original structure with its modern extension.
At the heart of the hotel's communal spaces, a podium features the reception area, showcasing a sculptural granite monolith with a brass countertop and preserved heritage details. Additionally, the lobby exudes the warmth and cosiness of a living room, offering a stunning view of Lake St Moritz, complemented by a Pierre Frey carpet.

The No.5 Bar, a global lifestyle beacon, stands out with its seven-metre linear Carrara marble bar and a stage for live performances. Meanwhile, the all-day dining haven, The View, expands on the hotel's circular design, providing guests with breathtaking panoramic views. On the lower level, The Stack combines a light seafood brasserie and a modern steakhouse, enriching St Moritz's diverse culinary landscape.
Topin emphasises: 'It's all about the people and the experience. The existing hotel style, combined with the underpinning of modern luxury while still capturing the essence of the place, can be seen in the selection of materials, furniture, detailing, and the precision of all bespoke items designed for the hotel.'
Designed to meet the demands of a cosmopolitan Alpine resort destination, Max Moritz is a versatile space readily available for guests seeking warmth after a day on the slopes. For those desiring an extra touch of luxury, the wellness centre, crafted in collaboration with Italian spa specialists Sainte Claire, takes inspiration from the surrounding Alpine rocks and offers a variety of luxury treatments. The intricate ceiling, mirroring the peaks of the Engadine Valley, provides guests with a serene escape.
The 74 hotel rooms, spanning both historical and modern wings, collectively establish a retreat-like atmosphere, many boasting expansive views of Lake St Moritz and the Piz da la Margna. In the historical wing, the traditional Alpine style takes on a contemporary twist, showcasing spa-like bathrooms and floor-to-ceiling wardrobes. Conversely, the Grace wing adopts a modern Alpine aesthetic, with a colour palette that seamlessly blends with the landscape, creating an environment where guests can feel connected to the location.
gracehotels.com/destinations/grace-la-margna-st-moritz
Receive our daily digest of inspiration, escapism and design stories from around the world direct to your inbox
Sofia de la Cruz, Travel Editor at Wallpaper*, was born in Madrid, Spain. Moving to London at 14 shaped the professional she has become today. She holds a BSc in Business Management from King's College London and an MA in Strategic Fashion Marketing from the London College of Fashion. Before joining the team in 2023, she served as an associate editor at Hypebae, where her focus was on the intersection of fashion, art, and culture. She also contributed as a writer for Futurevvorld, covering a variety of sustainability topics.