Borgo San Jacopo Room blends Florence's rich heritage with contemporary elegance
Borgo San Jacopo Room brings a touch of contemporary elegance to a14th-century historical building in Florence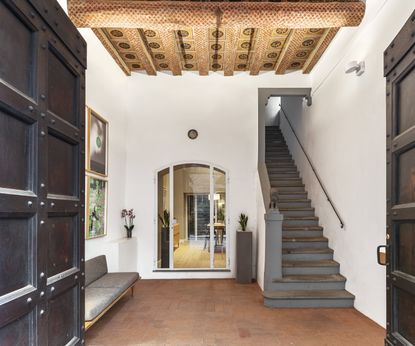 (Image credit: Leonardo Morfini)
The enchanting BSJ15, Borgo San Jacopo Room, is a lavish retreat nestled in the vibrant Oltrarno neighbourhood of Florence, just a stone's throw away from the Ponte Vecchio. It embodies the perfect blend of history and contemporary elegance, where art and architecture intertwine, offering visitors a haven of comfort and warm hospitality for an unforgettable stay.
Borgo San Jacopo Room
Occupying a 14th-century historical building, BSJ15 has been lovingly restored to preserve its authentic charm. Common spaces encourage encounters among guests, while the well-appointed rooms cocoon you in a sense of tranquil bliss. Some guests can enjoy breathtaking views of the picturesque Via Toscanella from their rooms.
The sophisticated interior has been meticulously curated by skilled local artisans, showcasing a fusion of functional oak elements and exclusive Italian and international pieces. The result is an ambience that exudes elegance and refinement at every turn. Within the bathrooms, the marriage of concrete ceramics and iridescent mosaic tiles crafts a soothing atmosphere.
The resort's location at the crossroads of Borgo San Jacopo and Via Toscanella resonates with the rich history of contemporary art in the city. The echoes of renowned Florentine artists linger in this area, inspiring the remarkable BSJ15 Art Collection showcased within the resort. Contemporary graphic masterpieces by Italian and international artists blend with the hotel's architectural grandeur.
The bond that exists between this place and contemporary art is what inspired Architect Pino Brugellis and his client Gabriele Rindi to create a contemporary graphic art collection in the resort itself. Florence-based Brugellis comments: 'This is how BSJ15 was born, with the collective collaboration of the founding artists of BASE/Projects for art, a non-profit art space in the nearby Via San Niccolò that hosts site-specific installations by the most important and innovative artists on the international scene: a space created by artists for other artists.
'The BSJ15 collections include some of the most important Italian artists on the international scene: Marco Bagnoli, Massimo Bartolini, Vittorio Cavallini, Paolo Masi, Massimo Nannucci, Maurizio Nannucci, Paolo Parisi, Remo Salvadori and Enrico Vezzi. The works of art are installed in spaces inside the hotel, creating a perfect integration and dialogue with the architecture.'
Borgo San Jacopo 15, 50125 Firenze Italy
bsj15.it
Receive our daily digest of inspiration, escapism and design stories from around the world direct to your inbox
Maria Cristina Didero is an independent design curator, consultant and author, who has contributed to many publications over the years; she is currently Milan editor of Wallpaper* . Didero has consulted for companies such as Vitra, Fritz Hansen, Lexus, Fendi, Louis Vuitton, Valextra among others. Based in Milan, she works internationally, curating exhibitions for institutions: some of her most recent projects include Nendo: The Space in Between and The Conversation Show at the Holon Design Museum, Israel; FUN HOUSE by Snarkitecture at National Building Museum, Washington D.C.; SuperDesign a project about Italian radical design, NY; Vegan Design, or the Art of Reduction by Erez Nevi and The Fish and The Crowd by Carlo Massoud, Milan. In April 2022 she curated a Mathieu Lehanneur exhibition at the Triennale in Milan called The Inventory of Life, while in July she debuted a project at the MK&G in Hamburg titled Ask Me if I Believe in the Future, alongside a series of ongoing collaborations. She was appointed 2022 Curatorial Director of Design Miami/. She is currently preparing two projects for Milan Design Week 2023.