Hotel Eden offers Italian mountain drives at the wheel of a Porsche
Hotel Eden in Rome is offering a Porsche mountain driving experience in Lazio, including a summit hike and lunch for two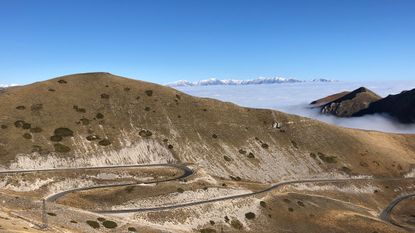 (Image credit: Courtesy The Drivers Club)
Hotel Eden in Rome is appealing to our spirit of adventure with the offer of a mountain driving exploration of the mountains in the surrounding Lazio region at the wheel of a Porsche.
The tour's destination, Monte Terminillo, is only one hour from Rome and provides a picturesque setting for hiking, skiing, and now mountain drives, thanks to this romantic excursion from Hotel Eden, one of the Dorchester Collection's two properties in Italy.
Hotel Eden's drive to Monte Terminillo, at the wheel of a Porsche 718 Boxster
The driving experience, an eight-hour trip in all, involves a Porsche 718 Boxster, a sat-nav guided tour to Lazio's highest mountain summit, an on-foot guide through the landscape, and lunch for two. The 718 Boxster is the fourth and most recent iteration of the repeatedly redesigned, two-seater open-topped classic sports car, which was first conceived in 1992 and released in 1996.
The experience is facilitated by The Drivers Club, an Italian company that crafts luxury motoring experiences all over the country, variously incorporating art, nature, culture, and food. Its offerings range from short excursions along the Amalfi Coast to travelling holidays through Italy's most romantic mountainous regions.
At Hotel Eden itself, guest itineraries are awash with spa treatments, and expansive views of the urban Roman landscape, from the comfort of its central location. The historic property, which first began receiving guests in the late 1880s, features interiors reimagined in 2017 by studios Moinard Bétaille and Jouin Manku, whose reworking collates art, the existing architecture, and modern luxury.
dorchestercollection.com (opens in new tab)
thedriversclub.it (opens in new tab)
Martha Elliott is the Junior Digital News Editor at Wallpaper*. After graduating from university she worked in arts-based behavioural therapy, then embarked on a career in journalism, joining Wallpaper* at the start of 2022. She reports on art, design and architecture, as well as covering regular news stories across all channels.