Delve into the Mexican jungle at Four Seasons Naviva
Four Seasons Naviva, Mexico, introduces 15 luxury tents, nestled in the jungle and centred around nature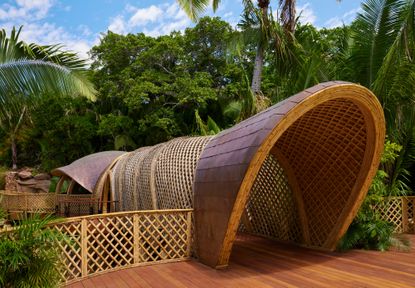 (Image credit: Courtesy Four Seasons)
The Four Seasons Naviva resort in Mexico sits on the rocky coastline of the Punta Mita peninsula, and has been crafted around an experience in nature. Walkways are set amongst trees and look out onto the sea, fire pits and hammocks adorn decking, while each tented 'room' features a deep plunge pool and a shower exposed to the stars. The accommodation is imagined to bring its guests closer to nature, with 'biophilic design' a key feature in its conception.
Four Seasons Naviva in Mexico is an escape in nature
The resort comprises 15 new, luxury tents and sits within 48 acres of Mexican jungle. Designed by architecture studio Luxury Frontiers, Naviva's build involved working with local artists, craftspeople and manufacturers. Bespoke furniture is by Taracea (which strategically sources wood rather than using intensive forestry methods) and Baufaktory, there is artwork crafted by Emma Boomkamp, and textiles from Mexican artisans at Onora Casa and Rasttro (whose handcrafted home accessories and games are made from reclaimed wood and glass).
Ronny Fernández, resort manager at Naviva looks at the space as a chance for people to experience a truly Mexican getaway, 'showcasing the wonders of Mexico – from embarking on a shamanic sound journey to finding a new level of focus while spearfishing'. Naviva's forest-based spa pods aim to promote a connection to the natural environment, while the House of Heat – inspired by the traditional temazcal, or 'sweat lodge', and designed to introduce guests to a mind-and-body awakening – is equipped with a ceremonial fire pit and seating inspired by traditional Mayan stools.
The nearby Four Seasons Resort Punta Mita has been situated on the peninsula for more than 20 years. The main resort offers oceanfront casitas and plunge pools galore, with anything from modest family rooms to 12-person villas available.
Four Seasons Naviva, Lot H-2, México 200 Km 19.5, 63734 Punta Mita, Nay, Mexico
fourseasons.com (opens in new tab)
Baufaktory (opens in new tab)
taracea.com (opens in new tab)
emmaboomkamp.com (opens in new tab)
onoracasa.com (opens in new tab)
rasttro.com (opens in new tab)
Martha Elliott is the Junior Digital News Editor at Wallpaper*. After graduating from university she worked in arts-based behavioural therapy, then embarked on a career in journalism, joining Wallpaper* at the start of 2022. She reports on art, design and architecture, as well as covering regular news stories across all channels.