The design hotels pushing towards a more eco-friendly future
Moving far beyond the bamboo straw, these design-led hotels are leading the way to a sustainable future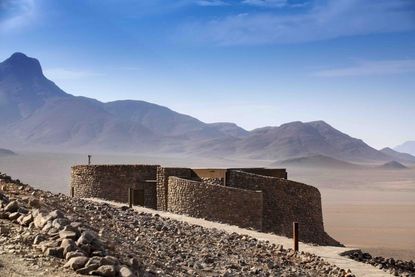 (Image credit: Jack Alexander of Johannesburg-based Fox Browne Creative)
It wasn't too long ago that hotels could collect praise for adopting LED lights and ditching plastic straws. But in this time of climate strikes and carbon offsets, travellers have become more aware – and critical – of the environmental impact made by the hotels they book. With eco-friendly straws and reusable water bottles now often mentioned in the same breath as free WiFi, many of the big players are slowly catching up by, for example, banning single-use mini bottles from their bathrooms. Meanwhile, a slew of smaller players are already miles ahead by putting sustainability front and centre of their brands.

Plastic bottles were already out of the question when Potato Head's red-brick Katamama Hotel opened on Bali's Seminyak Beach back in 2015, but with the recent launch of Potato Head Studios next door, the group has amped up its zero-waste approach by several notches. Spearheaded by the Rem Koolhaas-led OMA firm, the stilted brutalist beachfront retreat features ceilings woven from 1.7 tonnes of recycled plastic waste alongside recycled terrazzo floors and concrete from Katamama's red brick leftovers. For the interiors, the hotel tapped designer Max Lamb to create furniture from compressed beach litter and provides guests with bamboo zero-waste kits in lieu of plastic amenities. 'Instead of buying new, we made amenities and furnishing out of the leftover waste from the restaurants within our venues,' explains Ronald Akili, CEO of the Potato Head group. 'Our aim is to show guests that it's possible to strive towards living in a circular economy and to showcase how we can use creativity and design as a vehicle for change.'
Over in Tokyo's fashion-forward Shibuya district, Trunk (Hotel) follows a similar approach. Japanese studio Jamo Associates used reclaimed timber in the straight-lined interiors. Sticking to its 'environment first' ethos, the hotel also commissioned local designers to create upcycled amenities. Drinking glasses were made from recycled tube lights, laundry bags cut from deadstock canvas, and slippers from rubber waste, all available in the hotel's sustainable gift shop.
By going bigger, bolder, and more design-forward, these hotels prove that eco-resorts are no longer bound to thatched roofs and jungle backdrops. And while they leave a big impression with their architecture, they simultaneously aim to minimise the impact they make on the sites they occupy.

Bangkok-based architect and sustainability advocate Bill Bensley illustrates this with his Shinta Mani Wild camp deep inside Cambodia's Cardamom Mountains. He not only prevented the site from turning into a logging field by outbidding other investors when it went up for auction, he also designed the camp to keep the jungle completely intact. This meant carefully choosing positions of its 15 raised tents to avoid disturbing vegetation and draining patterns (zero trees were cut down during construction), as well as optimising natural light and airflow to reduce electricity consumption, much of which is generated by the camp's own solar panels.
Others, such as The Arctic Bath in Swedish Lapland, avoid land altogether. Designed by architect duo Bertil Harströmand and Johan Kauppi, most of this hotel's hardware, including the central bird's nest-shaped spa and six slanted guest cabins from local wood, float on the Lule river, with only a small bridge connecting them to the mainland.
Reducing environmental footprints also means tapping into limited natural resources as little as possible. In Namibia's barren Namib desert, a recent revamp by Jack Alexander of Johannesburg-based Fox Browne Creative turned the two-decade-old andBeyond Sossusvlei Desert Lodge into a self-sustaining mini village. The original structures were given a sleek makeover with local renewable materials like rock, stone, and sand and were fit with solar panels to provide the lodge with off-grid electricity, enough to also power rainwater harvesting tanks and water recycling systems. This, in turn, justified niceties like private pools and outdoor showers, shares Nicole Robinson, Chief Marketing Officer at andBeyond.
What unites these hotels is the realisation that sustainability isn't a one-step equation, but a multifaceted process towards making a lasting change. 'Without undermining steps in the right direction, eliminating plastic straws simply isn't enough,' says Robinson. 'Hospitality brands need to take a 360-approach to sustainability that encompasses every aspect of the business, from their values to how they operate.' Following this approach, hotels play an active role in conservation and education.

With sustainability at the root of their brand, the Six Senses group organises back-of-house tours educating guests about sustainable farming, water conservation, and upcycling. Meanwhile, Shinta Mani Wild invites guests on daily wildlife protection patrols and provides employment to locals who were previously living off illegal logging and poaching. And andBeyond partners with foundations across Africa to support wildlife conversation, simultaneously opening up access to unique guest experiences and activations. And it pays off: 'Luxury no longer lies in the amenities guests will find in a bathroom,' Bill Bensley says. 'They are looking for experiences that they can be inspired by, tell all their friends about, and which taught them practices they can bring into their daily life. Real luxury is the luxury of helping others.'

And so, hotels become platforms for raising awareness for a greater good. As Akili concludes, 'I strongly believe sustainability cannot be described by technique, by recycling, or by energy from renewables. The only way something can be described as sustainable is when people understand it, and that it has an impact on the daily behaviour of people. We interact with so many people every day, we should be able to use our business not only to serve, but to inspire.'