Zikmundov — Staré Hutě, Czech Republic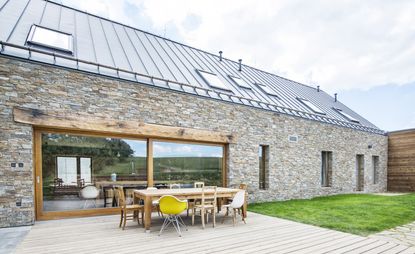 (Image credit: press)
Located on lawyer-turned-hotelier Adam Havlíček's sprawling family estate, close to the Moravian cit of Zlín, Zikmundov is housed in a former gamekeeper's lodge that dates to 1612.
Tasked with the restoration, local architect Luděk del Maschio - in collaboration with sculptor Patrick Čabla - reinstated two pillars to their original beauty, while enhancing the rest of the building's original bones with contemporary additions; guest rooms are dressed with colourful wallpapers, while rustic materials such as wood and stone and an eclectic selection of furniture create a homely atmosphere. 'We wanted our guests to feel more like they are visiting their friends than a hotel,' says Havlíček on the concept.
Work off an indulgent meal from the restaurant with a host of local activities from horseback riding to hiking, before heading to the wellness area to wallow in one of the two wood-fired bath barrels.
INFORMATION
ADDRESS
Staré Hutě 93