The Ritz Carlton — Santiago, Chile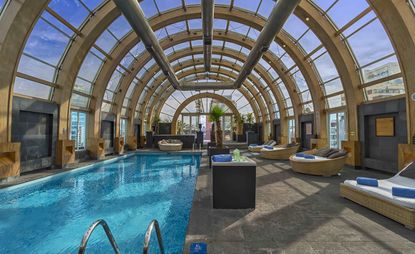 (Image credit: press)
There are many things to applaud about The Ritz Carlton in Santiago. For starters, its location in the aptly named El Golf neighbourhood - which itself sits within Santiago's chichi Las Condes district - is just peerless. Second, are the handsome interiors, which are the result of a recent overhaul by Amalia Barreda, of local firm ABWB, who took her cues from the city's location, nestled between the Pacific Ocean and the majestic Andes Mountains.
Each of the 205 rooms is a turquoise canvas highlighted with pastel and copper tones and dressed with local handicrafts and textiles - from the carpets to the mantles - inspired by indigenous costumes and art.
Downstairs, Estro mines the region to turn out seasonal dishes using local, artisanal ingredients such as the creamy artichoke parmesan risotto; confit of quail, served with potatoes from Chiloé Island; and the signature abalone dish mixed with fresh cucumber salad, avocado puree, lemon caviar and green chilli emulsion.
The good life though, is best celebrated at the glass-domed rooftop spa, for its sweeping views of the city and the snow-capped Andes beyond, or a quick few lengths in the heated indoor pool.
INFORMATION
ADDRESs
El Alcalde
Av. El Golf 15
Las Condes
Región Metropolitana
Chile
VIEW GOOGLE MAPS (opens in new tab)
Melina Keays is the entertaining director of Wallpaper*. She has been part of the brand since the magazine's launch in 1996, and is responsible for entertaining content across the print and digital platforms, and for Wallpaper's creative agency Bespoke. A native Londoner, Melina takes inspiration from the whole spectrum of art and design – including film, literature, and fashion. Her work for the brand involves curating content, writing, and creative direction – conceiving luxury interior landscapes with a focus on food, drinks, and entertaining in all its forms