The Tel Aviv hotels to catch some sleep in the city that doesn't
With its great stretches of lively sands, radical food scene and knack for continual change, you might say Tel Aviv is the Middle East's global meeting ground. And just like the population, its hotels are as diverse as they come, from an Ottoman prison turned luxury resort, to a millennial bolthole designed to Netflix and chill.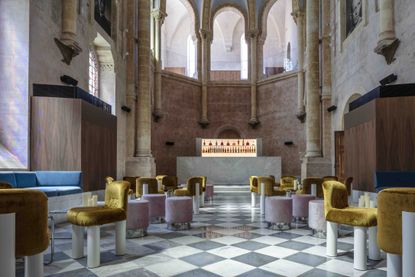 (Image credit: Amit Geron)
The Jaffa
A 19th century, neo-Roman former hospital turned lavish hotel, The Jaffa is the kind of titanic, rambling property that begs to be explored. A new wing was added to the historic building during renovation to increase the footprint dramatically, creating a tree-festooned private courtyard from which runs a New York Italian restaurant, Jewish deli and smart pool area. Designer John Pawson's sharp, minimalist style is a forceful counterpoint to the traditional architecture. In the lobby, a 13th-century Crusader wall meets mid-century furnishings from Shiro Kuramata and Pierre Paulin, along with artwork from Damien Hirst.
www.thejaffahotel.com.
4 Louis Pasteur Street, Tel Aviv, Israel;
Tel: 972.3 516 200;
Rates from: $500
While Tel Aviv's beaches are arguably the liveliest in the Middle East, the city's promenade was once dominated by soulless hotel chains with drearily uniform façades. Among the first to shake things up, Brown Beach House brought a boutique sensibility to the coast, with playful branding and eye-catchingly graphic interiors – from Elin Langlieb and Leopard Hospitality. Classic resorts of the 1950s provided the initial inspiration, and even though there's a dash of Miami and a sip of The French Riviera in the design, the volume has been notched up to reflect Tel Aviv's altogether more boisterous spirit.
64 Ha'Yarkon Street, Tel Aviv, Israel;
Tel: 972.3 760 5000;
Rates from: $167
The Drisco
With its Ottoman inspired interiors, The Drisco veers from the unrelentingly hip mid-century and modernist styles more generally seen in Tel Aviv. Boldly patterned rugs, preserved oriental tiles and original murals evoke something of a bygone age – fitting, considering the hotel's storied past. Built by Evangelist pilgrims in the late 1800s, it once played host to the likes of Mark Twain and Thomas Cook as the region's most splendid stay. Over a decade's work from architect and designer Ari Shaltiel has seen the hotel returned to its former glory, with 37 rooms, five suites and an ambient lobby bar.
4-6 Auerbach Street, Tel Aviv, Israel;
Tel: 972.3 741 0000,
Rates from: $230
www.thedrisco.com (opens in new tab).
A 1940s office building turned millennial minded boutique, the 34-bedroom Hotel Saul is as much a neighbourhood hangout as a youthful bolthole. Its ground floor features Tel Aviv's first gourmet 'sandwicherie', Barvazi, while the fourth floor terrace is a space to kick back and make use of the board games on offer. So far, so retro. Dan Troyim's whimsical interiors knit together flashes of decorative kitsch with handsome walnut furniture, while whitewashed brick walls play canvas to lolling pot plants. And if there's any remaining doubt as to the joint's target demo, rooms feature Netflix and buckets of popcorn to order.
17 Tschernichowski Street, Tel Aviv, Israel;
Tel: 972.3 527 7700,
Rates from: $115
www.hotelsaul.com (opens in new tab).
Lily & Bloom
An ode to Bauhaus and a tale of Tel Aviv given form, Lily & Bloom draws together the dual personalities of the city – on the one hand modernity, in the shape of the fictitious Ms Lily, and on the other, classic refinement, embodied by Mr Bloom. The 37-room boutique, and former 1930s bank, represents a compelling love affair between the two. Studio MU's design incorporates period elements, such as the bank's original safe, to hammer home a sense of history, while contemporary touches include specially commissioned mezuzas with Marc Chagall artwork, and handmade Italian furniture.
48 Lilienblum Street, Tel Aviv, Israel;
Tel: 972.72 248 4848;
Rates from: $190
www.lilyandbloom.com (opens in new tab).
Situated on the frenzied Magen David Square and just metres from the raucous market stalls of Shuk HaCarmel, Poli House is an exercise in energetic aesthetics. It's the first project from renowned designer Karim Rashid in the city, and his brazen signature style abounds in every bulbous, neon coloured piece of furniture and serpentine architectural line. Featuring 40 rooms and suites, the renovated Bauhaus building is now the square's most defining structure, and on a typical weekend the throbbing music and crowd-chatter from its destination rooftop bar is enough to cut through the din of the traffic below.
1 Nahalat Binyamin Street, Tel Aviv, Israel;
Tel: 972.3 710 5000;
Rates from: $170
www.thepolihouse.com (opens in new tab).
Tel Aviv's Nachmani Street, in the heart of the White City, sees neat low-rise buildings huddle behind bowing trees. Despite the proximity to Rothschild Boulevard, here the frenetic urban pace slows to a gentle stroll. This more languid air runs through The Norman, with its wooden ceiling fans, gentle light and flickering curtains. Sagrada's David d'Almada is responsible for the nostalgic design, drawing upon a romanticised 1920s. Statement light pieces from Collier Webb throw great curving shadows across the grand public spaces while the 30 bedrooms and 20 suites feature an artfully discordant assembly of prints and daring colours.
23-25 Nachmani Street, Tel Aviv, Israel;
Tel: 972.3 543 5555;
Rates from: $550
While the Brown Hotels group is known for its bijou but characterful properties, The Lighthouse represents its largest project to date – a 100-room, Brutalist-style tower block that looms over the bustling Allenby Street. But though bigger in stature than Brown's other digs, the trademark charm remains. Leon Avigad – co-founder of the group – partnered with local architect Nestor Sandbank on the design. It's a riot of carefully curated peculiarity. A birdcage swing in the lobby entices guests to shirk off their inhibitions and dimly lit hallways are emblazoned with flashes of flamingo pink and marigold.
Migdalor Tower, 1 Ben Yehuda Street, Tel Aviv, Israel;
Tel: 972.3 974 7045,
Rates from: $170
www.brownhotels.com (opens in new tab).
Once an Ottoman prison, today there are few who would complain about a stint in The Setai. Although it bears an initial similarity to the nearby The Jaffa – both renovations of deeply historic buildings, bolstered by contemporary architectural additions – venture inside and a markedly different vision unfolds. ARA Design leaned heavily on period influences, with Arabesque motifs, Turkish rugs and light fittings with ornately tessellated grills – a staple of Islamic design. The hotel's restaurant and bar blend contemporary Israeli food culture with traditional Turkish elements – the latter dressed with bespoke Brazilian blue marble conceived by local architecture studio, Baranowitz & Kronenberg.
22 David Raziel Street, Tel Aviv, Israel,
Tel: 972.3 601 6000;
Rates from: $520
www.thesetaihotel.co.il (opens in new tab).
A 39-room boutique close to artistic Neve Tzedek and hip Florentin, The Vera manages to marry the industrial with the comfortable, seducing guests with its feeling of cosseted privacy – the natty wraparound courtyard alone is a pocket of ease in an otherwise unruly metropolis. Inside, polished concrete and unplastered walls are made friendly with soft seating, plush rugs and stacks of photography tomes that invite visitors to linger. Yaron Tal Studio led the interiors charge, and guestrooms are a pithy combination of black and grey. The dual-level rooftop, meanwhile, is a terrific spot from which to take in the nearby Shalom Meir, Israel's first skyscraper.
27 Lilienblum Street, Tel Aviv, Israel;
Tel: 972.3 778 3800;
Rates from: $190