The 13 best NYC secret bars and speakeasies, and how to find them
Hidden drinking dens are a dime a dozen in New York – if you're in the know. Take, for example, Please Don't Tell, accessed via a 1940s wooden phone booth inside Crif Dogs (and the only time we condone drinking and dialling). Then there's the Blind Barber, a barbershop by day, lounge by night; Angel's Share, hidden within a Japanese restaurant; and East Village institution Death & Co, the watering hole of choice for casual tipplers and professional bartenders alike. New York's Prohibition days may be long behind it, but the city's discerning imbibers are still seeking thrills in sumptuous speakeasies and clandestine cocktails. Here, we pull up a stool to NYC's finest new-generation bars with old-world charm.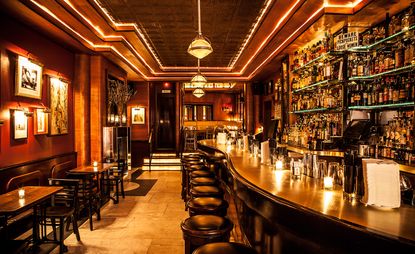 (Image credit: press)
Wallpaper* Newsletter
Receive our daily digest of inspiration, escapism and design stories from around the world direct to your inbox
Thank you for signing up to Wallpaper. You will receive a verification email shortly.
There was a problem. Please refresh the page and try again.
Employees Only

The New York design clique's answer to Milan institution Bar Basso, this Prohibition-style watering hole is fronted by a fortune-teller's lair (just look out for a red neon psychic sign). Established in 2004 by five industry friends and since expanded to other global locations including Miami and Singapore, the perpetually packed West Village haunt has stood the test of time, thanks in part to its worldly art deco interiors, conceived by Alex Locadia, and world-class cocktails, including EO's famed riff on a Manhattan. The adjoining restaurant offers a New American menu with an Eastern European twist, a nod to executive chef Julia Jaksic's Croatian heritage. The kitchen is open until late – we recommend the bone marrow poppers with bordelaise – but stay long enough and the bar serves up a gratis nightcap of homemade chicken soup that will see you through the early hours of the morning.

510 Hudson Street, West Village, NY 10014; tel: 1.212 242 3021; www.employeesonlynyc.com
Beauty & Essex

To access this 'secret' spot, guests must enter a pawnshop, replete with a saxophone, boom box, quirky artefacts, vintage treasures and an eclectic array of 'one-off' pieces of jewellery, including a 'returned' engagement ring. Once inside, you're spoiled for choice, with four dining rooms (one private), two bars and a lounge. It's worth a look up, too: a 20ft oval skylight crowns the main dining room, while the lounge (pictured) features a striking pearl chandelier that reaches from wall to wall. Another room is covered with 1,000 carve wood panels inspired by a vintage jewellery box design. The women's restroom boasts an artfully decorated salon complete with French sofas, antique perfume bottles and a private bartender pouring complimentary bubbly. We beat New York's summer heat with an Earl the Pearl – vodka, earl grey tea, lemon and mint syrup.

146 Essex Street, Lower East Side, NY 10002; tel: 1.212 614 0146; www.beautyandessex.com
Apotheke

A popular fixture on Chinatown's drinking scene since 2008, Apotheke is just what the doctor ordered. Owner and designer Christopher Tierney envisioned an opulent antique interior that calls to mind European apothecaries and 19th-century Parisian absinthe dens. A 35ft Carrara marble bar sets the scene for mixologists (so-called 'apothekers') in pharmacist-style apparel to dole out spirit-lifting cocktails – the 'prescription list' ranges from aphrodisiacs to euphoric enhancers and more. Drinks here are infused with organic produce, exotic herbs, fruits and botanicals – and who can argue with the healing powers of the Swiss Mistress, a stress-relieving blend of mezcal, chamomile, fresh mint, cactus, lemon and honey? Surely not us.

9 Doyers Street, Chinatown, NY 10013; tel: 1.212 406 0400; www.apothekenyc.com
Lantern's Keep

Concealed deep inside the historic Iroquois Hotel, this surreptitious spot will transport you to 1920s Paris – but only if the lantern outside is lit. The elegant Belle Époque salon was decorated by SZProject with éclat: from details of Degas' famous ballerina painting, to the cerulean-blue Louis XVI chairs, and marble-topped tables. This candle-lit haven is staffed by some of New York's most spirited and knowledgeable bartenders, where 'every order is a lesson in cocktail history'. Try the Young American – a heady mix of Campari, Italian vermouth, absinthe, and seltzer – or our personal favourite, the Astoria, comprising Botanist gin, French vermouth and orange bitters. Céleste!

The Iroquois Hotel, 49 W 44th Street, Midtown, NY 10036; tel: 1.212 453 4287; www.iroquoisny.com
Dear Irving

Launched in 2014 by the same team behind Raines Law Room, this cocktail parlour is inspired by Woody Allen's Midnight In Paris. To wit, Belgian interior designer Delphine Mauroit has conjured a fantastical trip through time across four themed rooms: take the JFK room (pictured), with its 1960s Mad Men-style leather seats and brass fixtures; or the Abraham Lincoln room, a throwback an entire century further to 1860. The F Scott Fitzgerald room is a Great Gatsby-era homage with glittering crystal drapes and art deco motifs, while the Marie Antoinette room exudes French aristocracy with ornate paintings, chandeliers, and sofas. Buzzers at each table summon servers (another novelty borrowed from Raines). NYC bar doyenne Meaghan Dorman is responsible for the ambrosial cocktails – the Whiskey Business has a smoked pepper pop, while the Butler Service has lingering notes of almond, raisin and chocolate. Dorman's drinks are matched by equally divine small bites, such as the Croque Monsieur Irving, a decadent affair of black truffle mornay sauce, and the bar's fiery take on devilled eggs, with curry mayonnaise and ancho chili powder.

55 Irving Place, Gramercy Park, NY 10003; www.dearirving.com
Raines Law Room

This hallowed haunt is named after an 1896 law that sought to curb liquor consumption – and inadvertently led to the rise of prostitution. Still, the shenanigans these days in Raines Law Room aren't quite as salacious, though Meaghan Dorman's luscious libations will certainly loosen you up. Ringing a discreet doorbell grants access to the venue, where a host will led you into the sophisticated Delphine Mauroit-designed den, a convincingly authentic throwback to the 1920s with Chesterfield sofas, brocade wallpaper, tin ceilings and antique furnishings. Like Dear Irving, there are wall buzzers to call waiters to your table to take your order – but come early, as tables fill up quickly.

48 W 17th Street, Chelsea, NY 10011; www.raineslawroom.com
The Campbell

Formerly known as the Campbell Apartment, this legendary Jazz Age institution tucked away in the southwest corner of Grand Central Terminal has found a new lease of life. Ingrao Inc and the Gerber Group pay homage to the venue's past life as the private office and reception hall of financier John William Campbell, retaining several of the 13th-century Florentine-inspired design details, such as the soaring, hand-painted ceilings, a grand stone fireplace, a century-old leaded glass window, original millwork and Campbell's personal steel safe. A menu of elevated bar fare (including mini lobster rolls and meatball parmesan sliders) complements classic and modern cocktails.

15 Vanderbilt Avenue, Midtown, NY 10017; tel: 1.212 297 1781; www.thecampbellnyc.com
The VNYL

Spread over four floors – each with a distinctly different design – The VNYL (short for 'Vintage New York Lifestyle') is a groovy, 1970s-themed venue that opened last year. The gargantuan 8,000 sq ft establishment in the East Village is fronted by a vintage record store and coffee. Inside, owner and Irishman James Morrisey has teamed up with designer Sarah Abdullah on the plush interiors. A polished concrete entrance gives way walnut-clad walls, David Hicks wallpaper, tiger leather, cedar panelling, vintage sconces, Flos pendants by Michael Anastassiades, and the obligatory cluster of disco balls, of course. The custom furnishings were all manufactured especially in Ireland by Orior Design – a personal touch by Morrisey. Cocktails, vinyls and rock 'n' roll!

100 3rd Avenue, East Village, NY 10003; tel: 1.917 675 7725; www.thevnyl.com
The Ship

This underground bar has enviable pedigree even by this city's standards, having been established in 2014 by Little Branch and PDT alumni, and boasting ship-shape interiors conceived by Studio Robert Jamieson. A dynamic lighting installation made from inverted antique ship ventilation shafts leads visitor down thick timber steps into the space. The décor is a distinctly maritime affair: the bar is clad in patterned concrete tiles, with an aged copper top and walnut bar rail, while other design details include vintage industrial flights, booths featuring patchworks of reclaimed sailcloth, cedar cladding (reclaimed from old water tanks that adorn many New York City building rooftops), and aged zinc wall panels. The vintage Knoll armchairs have been upholstered in salvaged US Navy blankets.

158 Lafayette Street, Little Italy, NY 10013; tel: 1.212 219 8496; www.theshipnyc.com
Featherweight

The entrance to this Bushwick gem is unmarked – save for the towering three-storey high mural of an exhausted boxer hugging his punching bag above it. Make no mistake though, unlike the protagonist that guards it this dimly-lit cocktail den is anything but tired. Opened in 2013 by James Freeman and Johnny De Piper (also responsible for neighbouring sister venues Sweet Science and Sally Roots) along with Katheryn Weatherup, Featherweight packs a big punch in small package. Mathew Maddy of American Construction League is responsible for the eclectic décor, imbuing the space with a 1920s tiki vibe that feels achingly cooler than it might sound.

135 Graham Avenue, East Williamsburg, NY 11206; tel: 1.646 257 0946; www.featherweightbk.com
Karasu

Karasu, meaning 'little crow', is a Japanese restaurant and cocktail bar from Danny Minch and Dylan Dodd, the co-owners of Walter Foods and Walter's. Formerly a doctor's office, Karasu's unmarked restaurant space – accessible through Walter's – recalls Japanese hotel bars, but with a Brooklyn twist. Kevin Greenberg of Space Exploration Design brings an art deco sensibility to the izakaya, as well as vintage glassware and vinyl records. The menu too, like the interiors, is a deft fusion of East and West: chefs Yael Peet and Elena Yamamoto's riff on a Caesar salad is a clear winner, with jyako, soy cured egg, burnt lemon, as is the Thrice Rice cocktail, made up of nigori, scotch and a rice cake.

166 Dekalb Avenue, Fort Greene, NY 11217; tel: 1.347 223 4811; www.karasubk.com
Manhattan Cricket Club

Hidden in plain sight behind above Upper West Side restaurant Burke & Wills is the Manhattan Cricket Club. A nod to Australia's favourite sport, it's a private members' club with a twist: it's open to the public, though membership does have its perks, including priority seating, tasting events, and private liquor lockers. Behind a tufted green leather door, the apartment-style haven has all the comforts of an UWS home, complete with a wood-panelled living room and library (with real books), oriental rugs, cricket memorabilia, gold brocade wallpaper, and leather sofas. The marble bar is well stocked, with handcrafted tinctures, syrups and bitters, garnishes, imported teas and, most importantly, the proper style of ice for each drink.

226 W 79th Street, Upper West Side, NY 10024; tel: 1.646 823 9252; www.mccnewyork.com
The Wooly

Located in lower Manhattan in the landmarked Woolworth Building, The Wooly cheekily proclaims it has 'not been open since 2009'. Famed for its private parties bringing the creative spheres of art, fashion, music, tech and entertainment together, this hidden gem was originally conceived by a loose collective of friends who would later go on form interior design firm Reunion Goods & Services. The Wes Anderson-worthy haunt is noted for its quirky design details, including vintage Belgian wallpaper, wall lamps rescued from the Plaza Hotel (before its renovation), Woolly Mammoth-inspired artwork and a stage for performances.

11 Barclay Street, Financial District, NY 10007; tel: 1.646 807 9665; www.thewooly.com
Receive our daily digest of inspiration, escapism and design stories from around the world direct to your inbox