The Los Angeles restaurants that deliver straight to your door
As the Los Angeles dining out culture shifts to eating at home, residents are still craving the comfort of their favourite local restaurants. Here, we present our pick of the LA restaurants offering takeaway and delivery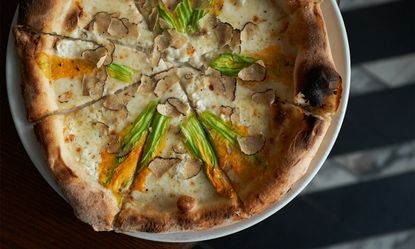 (Image credit: TBC)
Auburn
One year into service and Auburn is going strong. And for now, while you might not be able to enjoy the restaurant's stripped-down, simple interiors of white oak and pale tanned leathers, you can still relish chef-owner Eric Bost's vegetable-forward modern Californian cooking. Best-known for the flexibility of its mix 'n match prix fixe menu of either 4, 6 or 8 courses, the restaurant's new curbside pick-up offering is a weekly-changing family style menu – for 2, 4 or 6 people – with dishes like koji-aged Sonoma duck with a relish of blood orange, pink celery and picked marigolds or charred broccolini, green garlic and pickled pepper romesco.
Bavel
The Middle Eastern-inspired sophomore restaurant from husband and wife chef team Ori Menashe and Genevieve Gergis, Bavel was named the 2019 Restaurant of The Year by the Los Angeles Times for good reason. And while the full menu is not currently available for takeout, fans can still get their fix from a set menu that includes dishes such as the Moroccan carrot salad with whipped feta, smoked harissa and seeds, or the delicious wagyu short rib tagine with couscous, dried fruit and cashews.
baveldtla.com | Photography: JakobLayman
Bestia
The ever-popular Italian restaurant also from husband and wife chef team Ori Menashe and Genevieve Gergis, Bestia is – like its sister restaurant Bavel – offering a fixed takeout menu, with favourites from the house-made salumi to the delicious spinach and ricotta ravioli with lentil ragu, porcini, rosemary and grana padano. Fans of the perfectly crisp, blistered pizzas, though, will have to wait until the restaurant re-opens its doors.
Cecconi's
The convivial Italian restaurant from the Soho House family, Cecconi's is still serving its classics – available for delivery – from its West Hollywood outpost. So while the restaurant's power lunch buzz might be on pause for now, Angelinos can still enjoy favourites from the meatballs with tomato sauce to those pizzas, including a black truffle with goat cheese offering.
Dish to order: Calamari fritti with lemon and chilli aioli
Onda
The buzz surrounding the opening of Onda in Santa Monica Proper Hotel last year has still not died down. The good news is that those looking to get a taste of chefs Jessica Koslow and Gabriela Cámara's high-end Mexican food can still do so – albeit to enjoy from the comfort of your own dining room. Expect elevated classics such as oval-shaped housemade masa stuffed with delicious ingredients inlcuding silky suncoast black beans, morita ajo oil, scrambled eggs with crema, cotija, avocado and dill.
Dish to order: Onda rice bowl
Roberta's
You can't go wrong with takeout pizza. Ramp it up by making a beeline for Roberta's, the cult pizzeria originally from Brooklyn, which is still sending out perfectly crisp favourites from the straightforward Margherita to the Bee Sting with mozzarella, soppresssata, basil, chilli and honey.
Dish to order: Famous Original