Luvly is a new Swedish mobility brand hoping to reinvent the role of the car in the city
The Luvly O is a dinky electric urban run-around, born in Sweden and pitched at cities around the world as a way to downsize the car's impact on the city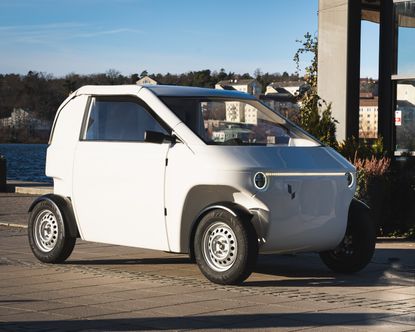 (Image credit: Luvly)
Mobility is massing for change. In one corner, you have the traditional auto industry, a place where brands old and new are duking it out in time-honoured fashion trying to reshape the future to conform to their particular vision. In the other, you have the relatively unexplored realm of mini- and micro-mobility, a thicket of fresh innovation and new spins on old ideas.
Luvly is a Swedish start-up that wants to conquer personal urban transport without smothering the qualities that make cities so appealing. No one could deny that the modern city hasn't weathered the collision with the automobile especially well; 21st-century urban planning is partly about unpicking the tangled legacy of the car.
Luvly believes that there's another way. The Luvly O, the Stockholm-based company's debut model, was designed by Joachim Nordwall, who previously worked for Swedish hypercar manufacturer Koenigsegg. With a range of 100km and a top speed of around 90km/h, Luvly hopes the O can be sold for around €10,000 when it launches later this year.
As well as being for low-speed urban transport, the O's production process has been carefully considered, using lightweight recyclable materials and an easy modular construction. Simplified logistics are a key part of the equation: the cars will be shipped in flatpack form for local assembly, significantly cutting the carbon footprint of the whole operation. We spoke to Håkan Lutz, Luvly's CEO and co-founder (along with chairman Björn Lindblom and chief technology officer David Egertz) about his vision for 'light urban vehicles', and how the O is designed to reclaim the space currently clogged up with SUVs and other unwieldy machines.
Håkan Lutz, Luvly CEO, on the future of urban mobility
Wallpaper*: When did you first identify the potential of Light Urban Vehicles?
Håkan Lutz: I've had a passion for cars since I was a kid. Whilst [I was] studying at the Stockholm School of Economics in the mid-1990s, this began to translate into an interest in urban transport on a more profound level. By the early 2000s, I had started envisioning a renaissance of the bubble cars of the 1960s, like the Messerschmitt KR200. These small, agile vehicles were perfect in concept for an increasingly metropolitan world – but they needed electrifying and modern safety standards, of course.
In 2007, I started Vehiconomics, aiming to do just that. Back then, there just wasn't the infrastructure or technology to make electric light urban vehicles a reality worldwide. Worse still, people laughed at the idea of retiring the world's fossil-fuel cars. But by 2015, when we launched Luvly, both attitudes and technology had changed.
W*: Do you think they have the potential to be used in every city, or are Asian cities or European cities, say, more likely to adopt the LUV model?
HL: Minimobility is already widespread in many Asian countries – think about the prevalence of tuk-tuks in some major world cities. We are not yet at this same level of adoption in Europe. However, we are seeing a radical shift in urban mobility infrastructures in large European cities in order to accommodate bicycles and scooters – so the potential for change is there.
It is impossible to predict with any certainty which cities are more likely to adopt, but what is certain is the need for a radical shift in how we think about urban transportation, and the need for an infrastructure to reflect social and environmental needs.
W*: What are the defining characteristics of an LUV?
HL: The primary identifier is that they are vehicles optimised for urban mobility. Technically, there are several factors that define LUVs, primarily their weight, efficiency, and adaptability. They weigh significantly less than a car (a fifth of the weight of a Tesla) and virtually all Luvly vehicle parts are recyclable and can be made from renewable materials.
The low weight allows us to utilise very small batteries – which is not only extremely important for the environmental sustainability of electric vehicles, but also in making a super-simple battery-swap system possible, together with short charging times on a normal household outlet. In material terms, we have a number of patents on the vehicle, including a platform that simplifies the construction of advanced three-dimensional composite sandwich structures, enabling affordability of production while maintaining the structure's lightness and strength.
W*: Who are your key competitors? The Citroën AMI, for example?
HL: There are several companies operating in the minimobility space at the moment, with vehicles such as the AMI, Renault's Twizy and Mobilize Duo, the ACM City One, and the Wuling Hongguang Mini EV all establishing themselves over the past few years. However, due to our patented platform, we are confident that we can offer best-in-class safety at a most competitive price.
W*: This kind of electric microcar has been popular in China for many years. What do you think Luvly does differently to these manufacturers?
HL: Luvly is a Swedish company and our vehicles reflect those qualities that typify Swedish engineering: radical innovation, beautiful design, affordable pricing, safety and responsible environmental approach.
W*: In addition to reducing the car's footprint, an LUV necessarily removes many of the extraneous equipment and luxuries that are integral to modern car brands. How do you think consumers will react?
HL: Driving the Luvly O, our debut model, feels much more futuristic and just as luxurious as operating a typical gas-guzzling SUV. The biggest difference to the consumer is they know they aren't polluting their city's streets and putting their community's pedestrians, schoolchildren, and animals at risk. Add to that the fact they are paying a fraction of the price to run the vehicle, and that parking is much easier, and the modern car experience isn't left with too much to recommend it.
W*: Where do you hope the Luvly O will be most successful?
HL: Initially, we'll prioritise launching our LUVs in cities with high levels of pollution and congestion and with a large proportion of urban commuters. But there really is global application because of our B2C and B2B offering, and I strongly believe we can make a huge positive impact in urban environments everywhere.
Luvly.se (opens in new tab)
Jonathan Bell has written for Wallpaper* magazine since 1999, covering everything from architecture and transport design to books, tech and graphic design. He is now the magazine's Transport and Technology Editor. Jonathan has written and edited 15 books, including Concept Car Design, 21st Century House, and The New Modern House. He is also the host of Wallpaper's first podcast.