Ferrari Roma Spider is a tonic for the senses
The new Ferrari Roma Spider is a throwback to the glory days of open-topped motoring and a sublime drive, as Jonathan Bell discovered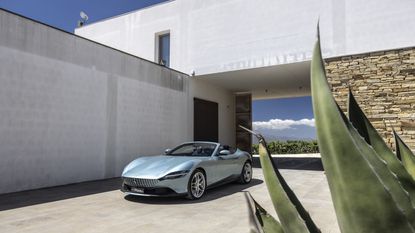 (Image credit: Ferrari)
A Ferrari conjures up a complex tangle of emotions. For the haves, it's either a hard-earned passport to an exclusive ownership club, or an overt display of decidedly unstealthy wealth. For the have-nots, a Ferrari is a brazen symbol of unwelcome excess and extravagance. For the car enthusiast, the prancing horse badge is almost always a glorious sight to behold, born by a machine that can brighten the darkest day. The uninitiated simply wonder what all the fuss is about.
Even the most diehard automotive agnostic couldn't deny that the new Ferrari Roma Spider possesses some kind of inherent, animalistic appeal. The convertible variant of Ferrari's current front-engined GT car, the Roma Spider was announced back in spring 2023. Styled in-house at the Ferrari Styling Centre, the Roma Spider makes a strong case for being one of the most beautiful cars on the market today.
This proclamation will quicken the pulse of Ferrari's management, who set out to build the Roma as an explicit homage to La Dolce Vita, the glory days of the 1950s and 1960s when Italy was synonymous with style and the good life, not just in automotive design, but in fashion, architecture, design, cuisine, culture and more.
Ferrari, then as now, played a flagship role in shaping this cultural moment. It was the heyday of Enzo Ferrari's reign over the company he founded in 1947, an era that saw Ferrari's total domination on the race track and the absolute embodiment of what a luxury sports car looked like on the road. Ferraris of the era were numerous and varied, styled by the myriad carrozzeria that competed for Enzo's attention and affection.
One of the reasons the Roma Spider is seen to evoke this halcyon era is the incorporation of a soft top, rather than a folding hardtop roof. According to Ferrari, this is the first pairing of a traditional canvas convertible roof with a front-engined car for over a half a century (the 1969 Ferrari 365 GTS4, to be precise). However, the soft-tops of the 1960s are no match for the sophistication of today's equivalents.
Made from five layers of acoustic fabric, with a real glass rear panel, the Roma's top can be dropped at speeds of up to 60km/h, folding away in just 13.5 seconds. The boot is left relatively unencumbered – all the better for a weekend's worth of luggage – and the sound insulation effectively shuts out the world. There are four colour choices, including an optional 'iridescent weave' that gives the closed top a reflective, slightly glossy surface, whilst contrast stitching can be specified, just one of many customisation options.
A Spider is meant to be driven top down and gone are the days when that meant being buffeted into oblivion. A cleverly engineered wind deflector sits over the (vestigial) rear seats and helps reshape the passing air to create a calming bubble of serenity around the driver and passenger's heads. It's not all about carefully curated silence though; most owners will want to make the most of the turbocharged V8 that sits up front. This unit puts out 620CV, delivering a relentless explosion of power when you put your foot down, but calm, measured progress when you simply feather the throttle.
Ferrari Roma Spider: lithe and compact to drive
Driving the Roma Spider around the winding roads of southern Sardinia was a sublime experience. Warm autumnal weather, no glaring sun, scarce traffic and smooth surfaces allowed for an instant bond with a car that proved reassuringly easy to drive fast. Many modern GTs express their power through brawn and muscularity, but the Spider feels lithe and compact; it helps that there's an evocative driver's seat view of the twin humps of the curvaceous wheel arches, bisected by the bulge of the engine. Corners can be dived into with abandon, overtaking is the work of a few seconds, and power never wanes nor grip abates.
It's hard to imagine how Ferrari will manage to electrify an experience that's so centred on such an explosive demonstration of traditional combustion. Despite the Roma Spider being awash with sophisticated systems, from traction control to active aerodynamics, there are times when its technology abuts emotion, and ends up coming off slightly worse.
For example, the Roma includes lane-keeping assist and an emergency braking system, both making their debut in a Ferrari. It's a decision driven by the need for high safety ratings, but also one that'll induce grumbling amongst the cognoscenti. Characteristically, Ferrari takes it all in its stride; one of the first things the red-shirted man from Maranello did on settling us into the Roma's cockpit was to turn both systems to 'off'.
Elsewhere, the Roma's ergonomics and electronics are either infuriatingly idiosyncratic or a welcome break from automotive convention, depending on your point of view. The start button is a touch pad on the steering wheel. Infotainment is so obtuse as to be a hazard to use on the move, while some of the haptic touch buttons are the antithesis of intuitive.
Even so, it would be perfectly possible to drive the Roma daily, thanks to the comfort of its seats, the useful storage space in the rear and its docility at low speeds. No one will, of course, such are the arcane rules of Ferrari ownership and length of the waiting lists – this is the kind of car that joins a fleet of similar machines and enjoys only sporadic use.
The idea of an 'affordable Ferrari' is a ship that has long since sailed. Nevertheless, the Roma Spider's fusion of loving memory, lascivious beauty and driving pleasure doesn't necessarily guarantee it a spot on the supercar collector's radar. New money might baulk at the Roma's unapologetically unhybridised commitment to raw, visceral combustion. It might equally dismiss the glorious front-engined form as not being a sufficiently over-the-top visual display of speed and power.
Although Ferrari is characteristically explicit about the Roma's dynamic and sporting abilities, it is also just as proud of its 'restrained elegance'. Restraint is not commonly aligned with Ferrari ownership; drive this car aggressively anywhere near a centre of population, and you'll soon discover whether people consider your sonic presence mellifluous or menacing; it's a car for passing through, not hanging around. Living la dolce vita can be tough when you're passing by people whose vita is not nearly as dolce as yours, and no amount of nostalgia or admiration can negate that. The Roma is an object of undeniable beauty that – perversely - might end up struggling for universal affection.
Ferrari Roma Spider, from £210,313, as tested £287,753, Ferrari.com
Receive our daily digest of inspiration, escapism and design stories from around the world direct to your inbox
Jonathan Bell has written for Wallpaper* magazine since 1999, covering everything from architecture and transport design to books, tech and graphic design. He is now the magazine's Transport and Technology Editor. Jonathan has written and edited 15 books, including Concept Car Design, 21st Century House, and The New Modern House. He is also the host of Wallpaper's first podcast.