Spain's Cupra is staking a claim to become the most emotional electric carmaker
We spoke to Cupra's CEO Wayne Griffiths about the art, science and imagination required to create an auto brand from scratch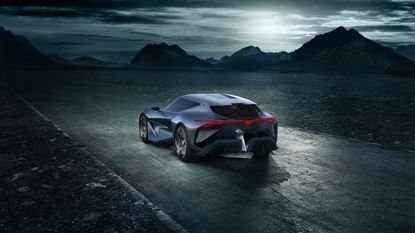 (Image credit: Cupra)
Cupra is based in Martorell, north of Barcelona, alongside a large factory that once churned out the products of Spain's major car maker, Seat. Seat, or Sociedad Española de Automóviles de Turismo (the Spanish Touring Automobiles Company), was founded in the 1950s as a partly state-owned venture. Strong early links to Fiat meant that many early Seats were effectively re-badged Fiat models and it wasn't until the company was acquired by the Volkswagan Group in 1986 that it started to forge its own identity.
Now Seat has split once more. The Cupra nameplate, once a performance-focused Seat sub-brand, was spun off into an independent name in 2018. Both companies are headed up by Wayne Griffiths, a long-term auto industry veteran with over 30 years' experience working for the VW Group, firstly at Audi and then at Seat.
We travelled to the company's HQ to talk about all things Cupra and what the next move is for a new company that's committed to an electrified future. The HQ was built in 2019 and forms part of a vast complex that includes factory, design studio, research laboratories and many more of the multiple moving parts required to build a modern car. As well as Seats and Cupras, you'll also see Audi's A1 going down the line, a symbol of the VW Group's adept resource management.
Cupra: 'emotional design' for a post-combustion era
Cupra's HQ combines offices with towering public spaces, stacked with merchandise and auto-related objects. Despite the decon-business park exterior, inside, it has a dark, neo-gothic vibe, a quality that could be associated with the cars themselves, with their matt black paintwork, bronze detailing and little Gaudi-esque flourishes. The company's most recent concept car, the DarkRebel, was revealed at the 2023 Munich auto show, and epitomises this brand's most Batmobile-style excesses, part Christopher Nolan, part Rocky Horror Picture Show.
Griffiths knows that Cupra has been gifted an opportunity. VW's current EV strategy must navigate the choppy waters of changing legislation, public expectation, and dithering politicians, so a certain amount of bet-hedging needs to be done. While Volkswagen itself can cling on to the combustion engine until 2033 at the earliest, Cupra is set to quit combustion much, much earlier – 2025 is being talked about.
The newish brand is an advance scout, sent out to observe the lie of the land in the post-combustion era and stake a few claims while it's out there. 'When we launched the brand five years ago, we wanted to be a challenger brand,' says Griffiths, 'a brand with emotional design and performance. Not about premium and luxury, or heritage and tradition. Cupra was created because of two things; industry disruption due to electrification, and social disruption due to different value systems.'
The latter is a reference to the shift in car-ownership and usage patterns. 'Mobility' was once taken to mean the four-wheeled conveyances that were parked outside your place of residence – these days it references everything from public transport to car sharing, to cycling, e-bikes and even scooters. 'Before, Seat was essentially about cheaper Volkswagens,' Griffth says frankly. 'Now we have a new value. We're the only brand in the group created from scratch.'
Griffiths points out that Cupra's customers are 'younger and they want something new'. Up until about 18 months ago, that newness was still closely related to the former parent company. Cars like the Leon and the Ateca were essentially uprated versions of Seat equivalents. The first Cupra-only model was the Formentor, a neat blend of hatchback and SUV.
It was followed by the Born EV, a Cupra-badged version of Volkswagen's ID.3. Coming up are the Tavascan and Terramar SUVs, both due in 2024, and the Cupra Raval (formerly the UrbanRebel), a compact city car expected to be available from 2025. It's more than enough to give the new brand solid growth and great customer perception. With 400,000 cars sold to date, Griffiths points out that 'we're no longer an experiment or a test – people see that it works'.
Through involvement in events like Extreme E racing, Griffiths argues that 'we're helping redefine what motorsport means', ensuring the brand's origins in racing still shine through. While no Cupra is slow, the line-up is still a long way off making it a dedicated sports car brand, but that's not the intention. Nor, surprisingly, was the coming all-electric model range part of the original plan. 'In 2018, we didn't have that plan,' Griffiths admits. 'It's been accelerated by Covid, the semi-conductor shortage, and the climate crisis.'
With EVs now front and centre of the Cupra strategy, Griffiths still needs to make cars that are distinct. 'We focus purely on emotional electric cars,' he says, pointing to the recent DarkRebel concept as a case in point. 'It's the maximum expression of an emotional electric car. It's a car for a car-lover, not about focus groups or people pleasing. I tell [Design Director] Jorge Diez that he needs to shock me. The design team has maximum liberty and flexibility.'
Electrification further simplifies an auto industry that was already reliant on platform-sharing across brands and groups. It also means that challenger brands can compete with century-old established names. Whether you find motoring a delight or a chore, the industry is striving to ensure that there's something to cover all bases. The bigger the company – the VW Group is the world's largest car maker by revenue – the more bases to cover.
That's where Cupra comes in and why Griffiths can afford not to be consumed by rules or brand bibles. 'I know what Cupra is and is not,' he says simply. 'We know where we want to go.' This includes the strong gut feeling that a provocative, bold sports model will always find an audience, no matter what. 'There'll always be people out there who want to drive,' he says. 'We're not going to be focused on self-driving or autonomous cars.'
Whilst the DarkRebel is very definitely a concept, one senses that it's the car Griffiths himself would be keenest to drive. One of its technical flourishes is the inclusion of an avatar-like personal assistant, as well as three distinct driving modes that can completely change the character of the car. Griffiths points out that systems need to collaborate, not compete, and that although 'data is a new currency' when it comes to carmakers, the challenges of security and data protection are myriad.
Car makers assure us that we've reached the watershed point in automotive weight. The tricky balancing act between performance, safety and range has seen larger EVs flourish, whilst short-range, lighter machines don't find favour with drivers still mentally constrained by range anxiety. 'A 600 mile [range] will change that pre-occupation,' says Griffiths confidently, '[the current restrictions] are temporary.'
VW is investing big in Spain: new platforms, new battery tech, a new battery assembly plant, around €10 billion in all. Cupra's confidence is underpinned by VW's strategy for the two sister brands. Seat is moving more and more into micro-mobility, with the electric Mo scooter and potentially a Citroën Ami rival based on the 2019 Minimo concept. It is Cupra, not Seat, that is planning to tackle the mighty US market ('we need a car that fits in the US, which is a large SUV').
The other advantage of a brand-new brand is that there's no historical baggage or off-message associations. Everything Cupra does is from first principles, albeit with the might of the VW Group to support it. That means everything from new materials to exploring the sound generated by the new-generation of EVs. The Acoustic Vehicle Alerting System (AVAS) is mandated by law and requires every car maker to corral an acoustic department and work out their own acoustic signature.
The Tavascan, we are told, will have a sound inspired by nature, a gentle rushing like water drawing through pebbles on a beach, or wind in tall grass. It also means pushing the envelope in lighting design, a visual signature that becomes more and more important due to the flexibility of LED technology. Twenty years ago, a Tavascan-sized car would probably have had only five bulbs in the passenger compartment; the new model has upwards of 100 LEDs in the interior alone.
Above all, Cupra believes it is well placed to flourish in a time of change. 'We're a brand from Barcelona, young, vibrant, on the beach but with a rich culture,' Griffiths says, explaining that things like brand partnerships and ambassadors are rich pickings for a youthful, sporty and focused new company. 'There are some areas I'd to explore further, such as fashion,' he says, 'also cinema, not just in terms of product placement, but working with certain directors.'
Cupra already puts its name to Barcelona's Primavera festival and can also be found on FC Barcelona's shirts. 'You're going to fail if you try and defend the status quo,' Griffiths says simply, 'the future will belong to those brave enough to reinvent themselves and do something new.'
Receive our daily digest of inspiration, escapism and design stories from around the world direct to your inbox
Jonathan Bell has written for Wallpaper* magazine since 1999, covering everything from architecture and transport design to books, tech and graphic design. He is now the magazine's Transport and Technology Editor. Jonathan has written and edited 15 books, including Concept Car Design, 21st Century House, and The New Modern House. He is also the host of Wallpaper's first podcast.