How Waymo's autonomous cars are driven by design
Waymo, the former Google self-driving car project, stands for a new way forward in mobility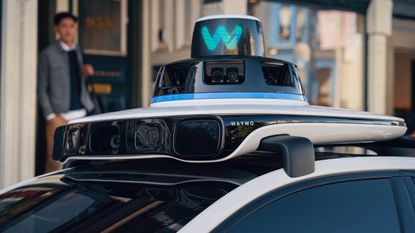 (Image credit: press)
The self-driving car industry is at a crossroads. After years of high expectations and lofty predictions, the futurologists can no longer confidently predict a world of hands-free, zero accident driving. Behind the scenes, however, the big players are pressing on with the tech, foreseeing a future where certain journeys – but not all – will benefit hugely from true autonomous vehicles. The autonomous vehicle is coming, no doubt, but right now, it is waiting, cogitating and calculating exactly who and what it's for.

Alphabet's Waymo Division is currently leading the pack. The project started at Google back in 2009, with a focus on engineering, software and sensors and it wasn't until 2015 that their first car appeared. The cute, bug-like Firefly briefly flew the flag for the new technology, serving as a testbed for the new era as it flitted around Google's vast Mountain View campus.
The company's Head of Design, YooJung Ahn, has spent nearly eight years at Waymo. Her team has worked closely with the engineers from the outset, finding out new ways of designing for autonomy. We talked to her about the latest version of Waymo's self-driving machine. 'We sort of had a blank slate [with Firefly], but our biggest learning from the project was that when developing a car, scaling was a big issue,' Ahn says, 'It was eye opening. So that's why we decided to work with OEMs.' In addtion to Firefly, Waymo's tech has been incorporated into Prius, Lexus and Chrysler platforms. Now it's the turn of an all-new car, the Jaguar I-PACE.

Ahn, who studied industrial design at Hongik University gaining a Masters in Design Methods from the IIT Institute of Design, oversaw all these machines. 'The cars are all prepared for our use,' the designer says, 'it's not just about making panels differently – it's about internal materials being more durable, creating new consoles, headliners, etc.' But most of all, it's about incorporating Waymo's arsenal of sensors.
At its core, Waymo is about software and sensors. As well as integrating the latter, Ahn has to bring a sense of unity, corporate coherence and functional simplicity. Waymo Driver number 5 is built upon the I-PACE platform, an accomplished pure EV. It was a natural choice for several reasons. 'We wanted an EV platform with a lot of power,' Ahn says, 'We also wanted to give our user group a bit of diversity. The [Chrysler Pacifica] minivan was good for families. But our role is to have maximum flexibility.' As well as the flagship I-PACE, of which the first thirty or so can currently be seen in Phoenix and the Bay Area, there are advanced plans for a Waymo-powered truck and a smaller delivery vehicle. As Ahn notes, 'the technology is evolving every day,' and the Waymo approach evolves along with it.

While Firefly had a distinct character, the Waymo I-PACE is rather more explicit in its display of technical might. 'When we started in 2013 people had no idea [about autonomous cars],' Ahn says, 'We made our first car look friendly, not intimidating. It wasn't meant to be a "scary robot car". The I-PACE is a bit more sophisticated, with the recognisable essence of the Jaguar peeking out from beneath a carapace of sensors. We work closely with the engineering team from the beginning,' Ahn notes, pointing out that elements like layout, proportions, shapes and even the materials in the hefty roof pod are largely determined by the system requirements.
The sensors include a 360-degree LIDAR system, a 360-degree camera and long-range camera and 2 radars which are both forward facing. That's just on top; In total, the car has 29 exterior cameras, six radar sensors and five more LIDAR sensors around the vehicle. This is all proprietary technology – 'we couldn't get off-the-shelf sensors that met our performance requirements,' says Ahn – and together they stitch together a vast open dataset (currently around 2TB worth and open to anyone to access) that is processed by the car's systems.

YooJung Ahn acknowledges that self-driving cars are still in their very early stages. 'The service and branding is almost more important that the car itself,' she muses, pointing out the convenience of having the visual identifier on the roof and the custom displays in the interior. Waymo have an option to acquire up to 20,000 I-PACEs, taking the vehicles from Jaguar's factory in Austria and adapting them Waymo's Michigan facilities. When asked whether AVs need to be noticeably different from conventional cars, Ahn points out that 'when it comes to safety, people don't really mind seeing sensors.' The balanced design also implies stability.

Regardless of the technology powering Waymo, the company is nothing without a valid business case. Building the Firefly was a bold first step, but also the realisation that car-making is not an easy task (something also discovered by Apple and, more recently, Dyson). Right now, Waymo's target market is short-hop urban transport, with short and long-distance freight following afterwards. But will the sudden surge in global unemployment make true autonomy a step too far? Or will the increasingly unpredictable requirements for social distancing make autonomous delivery systems an essential part of a new society? Uncertainty, it seems, is all part of the process. 'People love technology but they don't want complexity,' says Ahn, 'who knows what the next step will be?'
INFORMATION
waymo.com (opens in new tab)
Jonathan Bell has written for Wallpaper* magazine since 1999, covering everything from architecture and transport design to books, tech and graphic design. He is now the magazine's Transport and Technology Editor. Jonathan has written and edited 15 books, including Concept Car Design, 21st Century House, and The New Modern House. He is also the host of Wallpaper's first podcast.