Dacia is a socialist brand reborn, bringing low-cost functional car design to the masses
With the non-nonsense Dacia Jogger a case in point, Dacia is making functional cars affordable – 'cleverer but also less expensive', as VP design David Durand explains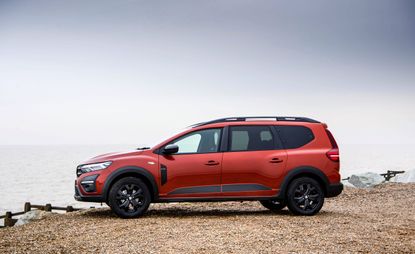 (Image credit: Dacia )
In a world where many automotive companies are on a relentless drive upmarket, Dacia is a noble outlier. A committed budget brand, its history can be traced back to 1966 when it was founded as Romania's state car manufacturer. To begin with, Dacia built Renaults under licence, the most famous of which was the Dacia 1300. This little-changed version of the Renault 12 survived on the Romanian market until 2006, some 26 years after production had ended in France.
At the height of the Cold War, Eastern European car manufacturing was not renowned for its sophistication, but Dacia could at least claim that its 1300 was the most advanced car available behind the Iron Curtain.
Fast forward another two decades, and the brand has now become a sub-division of its former benefactor, having been acquired in 1999 partly to bolster Renault's manufacturing capacity in low-cost Eastern Europe.
Renault has found itself with a bargain brand with the ability to transcend a cut-price image. With cars like the Logan (2004), Sandero (2008), and Duster (2010), Dacia rapidly established itself as the Lidl of the automotive world, unashamedly cheaper but usually no less sophisticated than its rivals.
Today it occupies a space akin to Renault's positioning in the 1970s and 1980s, when the diamond badge adorned some of the best and brightest small cars in the world.
Dacia's design department has been headed up by David Durand since May 2022, working together with Renault's overall design VP Laurens van den Acker.
A graduate of Paris' Strate College, Durand has worked at Renault for almost his entire professional career, shaping key concept models like the 2000 Koleos and the 2002 Ellipse. He has been responsible for Dacia's exterior design since 2020.
Since the Logan's launch, Dacia sales have numbered in the millions. The most recent car to come from the stable is the Jogger, a high-riding seven-seater that splits the aesthetic approach between SUV and estate car. The result is no-nonsense and rugged, giving the impression of a devil-may-care, go-anywhere ability (although with 2WD, not 4WD, that probably isn't the reality).
The Jogger might not have the hill-climbing ability of a Range Rover, but it still has fantastic functionality at a fraction of the price. This is not the wonky 'budget' auto experience of old, but a deft, competent machine that's just right for those who see a car as a tool, not a totem. It's a cheap car that transcends class; you can probably expect Joggers to start clogging up the drives of Britain's tattier stately homes in the years to come, taking over from dog-eared Volvos as the old retainers of choice.
Building cheap is not easy. 'It's very useful for Dacia to be able to get off-the-shelf technology from Renault and Nissan,' Durand admits, revealing how the brand is able to give such good value. Cutting costs – in a pragmatic but purist way – is also drilled into the design team. 'It's at the heart of our way of working,' he admits.
'We're questioning every part or function of the car. Do our customers really need this or that, given the increasing price of cars? If we don't need something, we take it away.'
One downside of this relatively hairshirt existence is that the Jogger isn't yet hybridised. That model will emerge next year, but for now, the only option is a modest petrol engine.
Although Durand's words might imply that a Dacia is Spartan in the extreme, the reality is that its interiors are far from bland. Inside the Jogger, you'll find things like air-con, parking sensors, and cruise control that would usually be charged as optional extras.
'Instead, we spend money on things like the modular roof bars,' Durand says, 'things that are actually useful for the customer. If we spend more time and money on thinking about the product, it will be cleverer but also less expensive.'
The staples of any good design aren't ignored either; the Jogger is sturdily detailed and inoffensively shaped, and other cars in the range adhere to a similar solidity and basic 'rightness'. 'We spend a lot of time defining things like proportions, length, height, and wheel size,' the designer says. 'It means you need less "make-up" to make a car look good.'
Durand helped shape the company's 2021 concept, the Bigster, a Tonka-toy-like SUV that looks like it could out-macho most all-American challengers. 'We're trying to find a formal language that's quite pure and simple,' he says. 'It could be a little easier to manufacture, perhaps, but it's more important to appear simple through design.'
The company's first EV – not available in the UK – is a case in point. The Dacia Spring is still rugged but also compact. 'It's lightweight so you don't need a big battery,' Durand says. At just 3.7m long, the Spring is one of the smaller EVs you can buy – as well as being the cheapest. It'll be replaced with an all-new model in 2024, one that shares a platform with Renault's much-anticipated Renault 5 revival.
'I guess that electric cars will change our way of living with cars,' Durand says. 'There'll be more car-sharing, with new brands coming from outside the industry. It's been a while since we've had major disruption.'
While premium machines make up the majority of EVs currently sold, the idea of a true low-cost electric car hasn't exactly taken root. Just as the Renault 5 introduced the world to the concept of the hatchback, so Dacia posits a future where your car isn't the be-all and end-all symbol of status and aspiration. Durand speculates on future customers who might own 'a carbon-fibre bicycle that costs more than their car. Their car is not a social statement.'
With a crisp new brand identity being rolled out across the range, including a new logo, emblem, and colour way, can Dacia follow Škoda as the next ex-socialist nameplate to make it big? Škoda was steered to middle-class respectability by VW, leaving names like Lada, Wartburg, Trabant and Zastava to wither and rust.
However, it's clear that Renault's patronage isn't about increasing Dacia's social standing, but about responding to the changing perceptions of the car's fundamental role. 'We're part of a company that specialised in mass-market cars in the 1960s, 1970s, and 1980s,' says Durand. 'This is in our genes.'
If all you care about is getting seamlessly from A to B without making too much of a fuss, Dacia has you covered.
INFORMATION
Dacia Jogger Extreme SE TCe 110, from £15,345
dacia.co.uk (opens in new tab)
Jonathan Bell has written for Wallpaper* magazine since 1999, covering everything from architecture and transport design to books, tech and graphic design. He is now the magazine's Transport and Technology Editor. Jonathan has written and edited 15 books, including Concept Car Design, 21st Century House, and The New Modern House. He is also the host of Wallpaper's first podcast.