Cool, calm and connected: new design-led home tech concepts unveiled
Launching at Salone del Mobile 2022, new concepts from Deutsche Telekom Design & Customer Experience and Layer rethink the way we connect, communicate and package our lives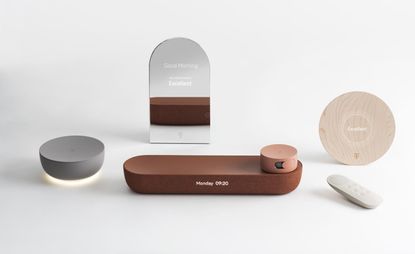 (Image credit: press)
In partnership with Deutsche Telekom Design & Customer Experience
Conceived by Deutsche Telekom Design & Customer Experience in collaboration with Benjamin Hubert's London-based strategic design agency Layer and set to launch at Milan's Salone del Mobile 2022 in June, Connectivity Concept is a line of elegantly formed, warm and tactile communication devices – all concepts designed for use in the contemporary home.
Connectivity Concept
Comprising a router, a mesh repeater, a soundbar with webcam, a set-top box and a remote control, the tonally pleasing, stylistically congenial collection is the fruit of meticulous material research, and is characterised by pared-down lines and a discreet, integrated interface.
With its multidisciplinary team based in the company's Bonn corporate headquarters, Berlin, Darmstadt and the newly opened Barcelona branch, the Deutsche Telekom Design & Customer Experience department experiments with digital solutions and physical products, designers working side by side to define the paradigms of the future.
The Connectivity Concept project began with the premise of connectivity as the capacity of various systems to communicate amongst themselves for the purpose of exchanging information. Deutsche Telekom Design & Customer Experience and Layer's collection accepts the modern concept of an infinite network of interdependent connections as central to our everyday lives and strives to radically improve the experience of cohabiting with it.
As the tools of domestic technology become increasingly linked together, in a flow that integrates digital and analogue devices, the designs in the Connectivity Concept collection make that connection harmonious and fluid – digitally and aesthetically.
Layer's approach to design focuses on what Hubert calls 'tools for change'. 'We are talking much more to consumers about how they live their lives and how the world is changing, and responding to that with our design work,' he says.
The clean lines on the Connectivity Concept set-top box harmonise with contemporary interior decor, a gentle luminescence indicating unit activation. The router has a mirror-polished finish that conceals the interface when switched off, while access ports are positioned on an external adaptor that can be placed out of sight and all cables can be concealed. Natural woodwork accents represent the synthesis of research into sustainable and eco-friendly materials. On/off buttons are hidden away at the back.
Similarly forward-thinking is Deutsche Telekom's new MagentaZuhause (Magenta at Home) smart home application. The app's myriad functions range from to-do lists and parent notifications (for when young family members arrive back home from school, for example) to home security and the remote management of devices such as lighting, heating and Wi-Fi routers. Simply and intuitively connected, the MagentaZuhause app is available for smartphone, tablet and Magenta TV.
Augmented Reality Packaging
Also to be unveiled at Salone del Mobile in June is the Deutsche Telekom Design & Customer Experience-patented Augmented Reality Packaging project, which redesigns and rethinks the concept of a technological product's outer wrapping. It transforms the meaning of unboxing and conveys a new message: the protective layer becomes a more eco-conscious tool for explaining the package's content and its functions.
How does it work? The Augmented Reality Packaging is characterised by the simple print of a QR code: scan it with a smartphone and it is immediately possible to check the contents of the package, consult the instruction manual, check product characteristics, even launch the device and download updates. All before the package is torn open.
Deutsche Telekom Design & Customer Experience's concept considerably reduces the amount of paper required for technical manuals, enabling a wider, general saving in packaging costs and materials in terms of paper, ink and processing. The packaging also facilitates direct connectivity and communication with the user, enabling a more personalised experience and product configuration.
'Design has the capacity to create value for the present and, above all, for the future, wherever the customer experience, sustainability and new technologies interact to create new digital lifestyles,' says Monica Dalla Riva, the company's vice president of Customer Experience and Design, adding that Deutsche Telekom wants to contribute 'to the dialogue on and around the role of design in the digital and tech world'.
INFORMATION
Receive our daily digest of inspiration, escapism and design stories from around the world direct to your inbox