Wallpaper* test drives the new Toyota Land Cruiser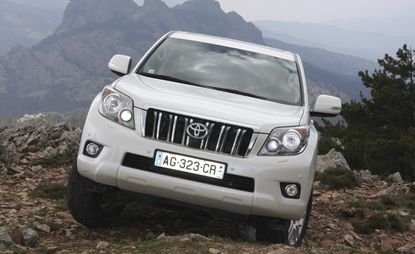 (Image credit: Toyota)
It's safe to say that despite its status as the world's largest car manufacturer, Toyota has experienced something of a turbulent 2010. With 1.8 million units recalled across Europe due to heavily publicised issues with accelerator pedals on a range of models produced since 2007, not to mention claims of electronic gremlins lurking within the hybrid poster child, the Prius, the Tokyo-based giant now has some ground to claw back. All this against a backdrop of global economic downturn and a generally depressed market.
Unsurprisingly, it's very much business as usual. Wallpaper* recently sampled the 2010 Land Cruiser, the latest iteration of a machine with some six decades of history and a good claim to being one of the world's most reliable cars.
The trusty old Land Cruiser is also the world's best selling 4WD vehicle - some five million have been sold in 188 countries around the world. Initially developed for military use back in the 1950s, the modern LC has established itself as the premier SUV in terms of quality, durability and refinement. The original models are still much prized (California-based ICON 4x4 remain committed to updating the original iconic LC models, for example), but the fifth generation shows quite how far the concept has come.
The Land Cruiser will always be a tough, go anywhere off-roader, although now there are some clever technological advances to help aid driver ability and enhance life on board. For example, exterior cameras feature heavily, affording the driver a comprehensive view of the area immediately next to the vehicle otherwise obscured from sight - incredibly helpful when tackling narrow passes or heavily bouldered terrain.
In addition to front and rear cameras, the system features left and right door mirror-mounted cameras capable of projecting either a front or a rear side view, with ultra-wide angle lenses to show the broadest possible forward vista.
Toyota has decided against drastically developing the Land Cruiser's exterior but a subtle injection of aggression is evident through increasingly flared wheel arches. A beefed up front bumper also allows enough visual impact without the loss of those iconically boxy characteristics. The new LC also sits precisely on its predecessor's wheelbase, partly so as not to reduce its off-road maneuverability.
Go-anywhere ability is essential. Now that many of its rivals straddle the worlds of town and country with increasing ease, the LC technical team has introduced a Kinetic Dynamic Suspension System' (KDSS), which helps soak up the body roll and bumps on conventional road surfaces, making the steering rather snappier into the bargain.
However, it's off road where the LC really comes into its own. Tasked with guiding 2.5 tonnes of car across any surface you chose to tackle, the LC is utterly unfazed. We sampled a wide range of terrains around Corsica and came away impressed: when faced with a perpendicular ravine composed of greasy unforgiving slate and flanked by beautiful yet treacherous rocks, one may be absolved from experiencing a heightened sense of trepidation. In the Land Cruiser, cabin panic is not a problem. The 'Active Traction Control' manipulates brakes and engine to distribute torque around all four wheels as needed, thanks to a cunning array of sensors.
We were also very taken by the 'Crawl Control' mechanism, a little piece of automation that's capable of transforming even the novice off-roader into a Dakar dynamo at the flick of a switch. Engage the Crawl Control system and the onboard computer will assist your slow ascent/descent of slopes at walking pace, without the need to even touch the pedals: just select one of five speed settings and then concentrate on steering. The LC is also equipped to wade through deep water at a slow, steady pace, helping prevent a risk of engine flooding or sustaining damage from submerged objects.
Spend any time with 2010 Land Cruiser and its cross-terrain capabilities are never in doubt, whether you're travelling to a suburban B&Q or to the foothills of Kilimanjaro. Many years of considered development have clearly paid off. However, others aren't far behind. Land Rover has mastered the art of making luxury cars that will literally stop at nothing. But application is everything; you're unlikely to see a fleet of Range Rovers pitch up to a UN mission in Central Africa. As long as Toyota refuses to compromise the Land Cruiser's off-road ability, and retains the bloody-minded bluntness of its visual approach, its reputation will be secure.