W* test drive the Range Rover Evoque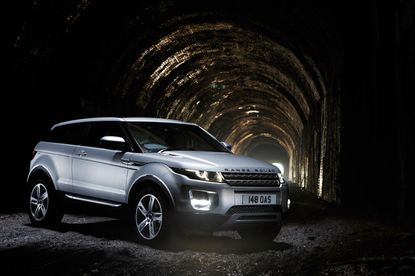 (Image credit: press)
According to motoring legend, the very first Land Rover was conceived on Anglesey island as a drawing in the sand. So it's fitting that this is where we first get to drive the company's latest car, the Range Rover Evoque. The car may have begun life as a Land Rover model - the LRX concept, first seen at the 2008 Detroit motor show - but since then, other than shifting badges to Land Rover's more luxurious brand, very little has changed.
It's a head turner for sure. The elegant original form of the LRX has been fought for and won by design chief Gerry McGovern, who presumably drew his own lines in the sand to ensure that so much of the concept's chutzpah made it into production. Whether it represents a dramatic evolution or an exaggeration of traditional Range Rover design is contentious. It's worth remembering that not one conventional Land Rover owner - the kind who will be most upset at Evoque's catwalk style - is on the sales target list for this model.
Evoque may have rivals like Audi's Q3 and BMW's X3 firmly in its sights, but neither of them can hold a candle to its visual drama. (Comparatively) small and lightweight, the design of the Evoque somehow manages to suggest athleticism without betraying its 4x4 roots. A high, sloping waistline, shallow side windows, rear spoiler, big wheels and even bolder wheel arches hint at the car's agility. The use of slim LED headlights and angular rear taillights - which mimic the interior dashboard dials and their ability to glow red in dynamic driving mode - underline its conceptual, even futuristic styling.
That the Evoque is impressive off-road is surprising when it could have been little more than a style statement, a pretty boy wannabe to its elder, more capable siblings. Despite its brand credentials, the new car's heart belongs to the city and the open road. Easy to drive and manoeuvrable around town, the best of the three engine options is the 2.0-litre turbocharged petrol engine (Si4) which shows the Evoque's on-road performance at its best. Racy and agile, the Evoque becomes a hot hatch on open roads - not something one would expect from this company.
But broadening appeal is what this car is all about. Land Rover expects young, hip, design-savvy urbanites to be the Evoque's biggest buyers. It already claims to have sold almost 20,000, with a remarkable 80 per cent of orders going to owners that are new to the brand. Both three and five door models are available, with the latter sacrificing a little bit of wedge-shaped style for increased practicality.
With the Evoque, Range Rover has moved further from its country roots and planted its lightweight and diminutive footprint firmly in the city.