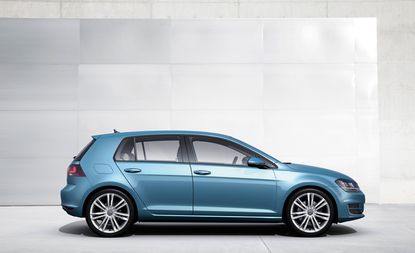 (Image credit: press)
Since 1974, 29-million people have been made very happy by the VW Golf (opens in new tab). The compact family hatchback epitomises the smart, reliable motoring middle ground by which all similar-sized cars are judged.

With so many customers satisfied with the basic recipe, radical design changes were out for the Mk7. As exterior designer Andreas Mindt puts it: 'You can recognise a Golf from 200 metres away, which is very rare in the auto industry. The Porsche (opens in new tab) 911 and Range Rover (opens in new tab) are two of not many others.'

But despite pressure to keep things the same, some key changes have been made to the Mk7 that add visual character and interior cabin comfort and functionality. Able to use the VW Group (opens in new tab)'s flexible new MQB platform, the Mk7 can offer a host of features the Mk6 simply couldn't.

It's longer (by 56mm), lower (by 28mm) and wider (by 13mm) but it's still up to 100kg lighter and 23 per cent more fuel efficient. With a slightly longer roofline and a more upright C-pillar, it's also significantly more aerodynamic. Take into account the slimmer and more horizontal lights - the front ones with a new twin U-shaped LED light graphic on each side - and it's easy to tell the Mk6 and Mk7 apart.

Another defining detail is the cool and newly rhomboid fuel filler cap. Its lines run in parallel with the iconic C-pillar and open a little like a gull-wing door. It's a small touch, but one that is likely to make you smile every time a visit to the petrol station is needed.

An increased wheelbase (+59mm) boosts interior space, and it's really tangible: rear leg and headroom are great, even with tall passengers front and back. A vastly improved satnav touchscreen up front is angled towards the driver to reduce glare and ease its use. And the ribbed seats feel supportive and comfortable.
The new platform also allows the addition of useful gadgets for safety, infotainment, economy and comfort. Stop/start engine cut-out when idling to reduce emissions is now standard across the range, as is a multi-collision brake system that stops the vehicle after an impact to minimise the chance of a second. Higher trims get adaptive cruise control and city emergency braking pre-crash occupant protection, while the initial top GT spec includes a 5.8-inch touchscreen satnav system as well as front and rear parking sensors.

Also worth serious investigation is the £795 Adaptive Chassis Control option available on the higher-powered engines. It allows driving mode adjustment from the centre console into Eco, Normal, Sport and Individual (and with the DSG automatic gearbox an additional Comfort mode, too). Sport mode, in particular, makes a real difference, bringing a firmer, near-GTI feel to the Golf's steering, plus stiffer suspension, quicker accelerator pedal response and sportier gearing. The steering wheel paddles of the DSG seven-speed automatic are great as well, allowing quick up-and-down changes if you want to add human input.

All in all, then, another clear improvement. But while the Golf Mk7 remains a 'car for the people', it's gently going upmarket in price. Although the entry-level model starts at just over £16,000 from January 2013, prices for the ones you'd really want to own nudge up to £24,625 - and that's before the GTI model arrives in summer 2013.
Guy Bird is a London-based writer, editor and consultant specialising in cars and car design, but also covers aviation, architecture, street art, sneakers and music. His journalistic experience spans more than 25 years in the UK and global industry. See more at www.guybird.com (opens in new tab)