Volvo Concept Coupé unveiled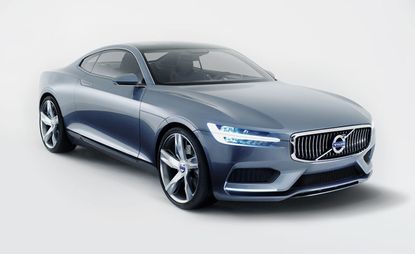 (Image credit: Volvo)
In recent years, the application of the magic 'D' word has seen plenty of grand claims in the name of corporate reinvention, with volume car makers liberally applying broad brush 'design' to help their cars reference high-end consumer goods and bolster references to heritage. On a superficial level, it works just fine; many people are still happy to pay a premium for a 'designer' product.

Volvo wants to do things differently. This is the new Volvo Concept Coupé, billed as everything a traditional concept car should be and then a little bit extra. On the surface - and a finely detailed surface it is - the VCC is a showcase of the car designer's art, inside and out. But underneath sits a core piece of technology, the product platform that will eventually form the basis of every future Volvo. Dubbed SPA - Scalable Product Architecture (opens in new tab) - the platform is a modular way of combining engines and chassis to create practically any size or scale of vehicle.

While future plans might encompass an elegant coupé like this, the priority right now is the replacement of the venerable XC90, one of the first premium SUVs in the market but now well over a decade old. When the new generation XC90 arrives next year, the shapes and signatures you see before you will help give the high-riding four-door a more elegant, svelte and - hopefully - Swedish appearance.

Volvo is a company on a mission. After a tricky start to the 21st century the company was acquired by Geely in 2010 (opens in new tab) in a deal that gave the Chinese car-maker access to Volvo's legendary safety expertise in return for renewed investment in a brand that Sweden holds especially dear. The unspoken desire is for Volvo to square up to BMW, Audi and Mercedes, three companies that have carefully stage-managed their 'ownership' of modern, progressive car design and charge a premium as a result. The ongoing German success story is cemented by platform engineering that has sent the car market fragment into vastly expanded product lines. Volvo currently has nine distinct variations of its model line up: BMW has 32.

A new product platform will go some way to shifting the balance of power, but it will be nothing without a coherent design strategy to put on top. Last year, Volvo appointed Thomas Ingenlath (opens in new tab) as Senior Vice President of Design, a high level post that follows other car companies' decisions to bring design into the boardroom. Ingenlath, a German designer with a long career at VW man, knows full well that car design is a point of contact with the consumer, not just the car owner. Platforms, markets, corporate culture - all these things are opaque to the new car buyer. Instead, they want differentiation, something that volume car makers struggle to assert in a crowded market.

As a result, Volvo has spent a while wrangling with its mission statement, at the core of which is an echo of co-founders Assar Gabrielsson and Gustav Larson's assertion that 'cars are driven by people' and hence safety should be paramount. Volvo will always own safety, it's the kind of sticky brand association that will persist to the end of time. But the company also wants its own take on Scandinavian design culture, mindful that consumers' visual literacy and design awareness is markedly different in today's image-driven culture.

The Volvo Concept Coupé is the first of three concepts from the Gothenburg-based design studios, all of which are intended to showcase different elements of SPA. Ingenlath is refreshingly dismissive of certain trends in contemporary car design - complex, busy surfacing, the fetishism of 'dynamic' forms - as well as being adamant that to be 'Scandinavian' isn't about cutting and pasting from the mid-century modern clipboard. Instead, he talks of the social and progressive values of the region's design culture, an outdoor lifestyle that values community and cohesive, persistent values but which is also tinged with a certain romantic melancholy.

These are difficult things to translate into car design. The VCC succeed instantly as a statement of intent thanks to its note perfect proportions. The relationship between flank and shoulder, bonnet and grill and roof and tail are all characterised by simple, straightforward junctions, soft lines that still have a strong geometry. The boxy Volvos of old are there in spirit, if not in actual shape, what Ingenlath calls 'a modern squarishness.'

The company is happy to draw parallels with its classic P1800, the svelte, chrome-laden two-door car that debuted in 1961 and still has a sizeable cult following. It's true that several elements of the Concept Coupé reference the curves and swoops of the little 60s sports car, a design partly driven by the European fascination with American glitz and glamour. But Volvo has a long history with two door cars. The classic Amazon model from 1956 was always available in a neat two-door configuration, while in the more modern era there's been two generation of C70 and even a couple of quirky collaborations with Italian styling house Bertone, the 262C of 1977 and the 780 Coupé of 1985.

This is all a long time ago in car lore. What differentiates today's Concept Coupé from its predecessors is intention; not to build, but to design new cars in such a way that the details, proportions and forms translate effortlessly into the next generation of Volvo's production cars. The interior is also emblematic of the new direction, mainly because new Volvos will mean new dashboard architecture, centred around a large touchscreen display. Colours and materials are inspired by the sweep of rugged coastline surrounding Gothenburg, while Swedish sourced carpet and saddle leather, together with an Orrefors crystal drive selector, complete the picture of a proud, flag-waving product.

Gothenburg is Volvoville, where the company was founded in 1927 and where 11,000 workers are employed at the campus-style corporate HQ (opens in new tab), factory and design centre. A few metres away from the Concept Coupé's unveiling, the real deal, the 2014 XC90, is receiving the finishing touches in deepest secrecy. Like the VCC, it'll be available with a plug-in hybrid drivetrain. Like the VCC, it'll feature an all-new dashboard and interface that will combine Volvo's safety know-how with its newly expressed design confidence. And hopefully like the VCC, its arrival will act as a glittering lure to draw many more buyers to this venerable but very valuable brand.
Jonathan Bell has written for Wallpaper* magazine since 1999, covering everything from architecture and transport design to books, tech and graphic design. He is now the magazine's Transport and Technology Editor. Jonathan has written and edited 15 books, including Concept Car Design, 21st Century House, and The New Modern House. He is also the host of Wallpaper's first podcast.