Premium brew: Tokyo's Koffee Mameya makes a perfect cup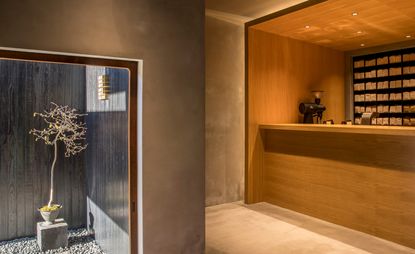 (Image credit: Koffee-Mameya)
Many of Tokyo's coffee loving crowd have been lamenting the demise of Eiichi Kunitomo's legendary Omotesando Koffee, serving what probably was the best latté in town until it closed at the end of 2015. Now it is time to rejoice at the opening of Kunitomo's new venture: Koffee Mameya.

Yosuke Hayashi, who also behind Omotesando Koffee, was put in charge of designing the compact space and has managed to carry on the original spirit of the first shop, with a small Japanese garden entrance, an inviting wooden cube housing the shop counter and the re-use of the original Omotesando Koffee sliding glass doors. The interior is almost entirely finished in coloured mortared walls and floors, except the rather futuristic looking chromate conversion coating finish of the packing room.
But it is the service and the novel approach to the product line up that defines and will set Koffee Mameya apart from other bean grocers. Kunitomo explains: 'We don't roast the beans. We select roasters from around the globe and have them roast the beans to our specifications.' As a professional barista – or 'coffee sommelier', as he likes to describe himself – his role is to find the ultimate beans, have them roasted to perfection and then be able to advise customers on which to buy and how to brew the perfect cup. Both local Japanese (Ogawa from Kyoto, Bontain from Nagoya) and international roasters (Cupping Room from Hong Kong, Code Black from Australia) have been persuaded to supply Mameya with specially selected and roasted beans.

Kunitomo and his assistants take their roles very seriously, as the lab-like coats and meticulously practised movements behind the counter bear witness to. Moreover, everything at the shop is designed to encourage customers to interact with the staff and ask questions about the beans they are buying, to make sure they get exactly what they came for. It can seem a bit intimidating on first visit, but as soon as you get Kunitomo talking about his beans, you cannot help but be drawn in by his passion for coffee.

At the counter, a small glass case displays samples of the current beans on offer in an easy-to-read matrix from light to dark roast on the horizontal axis, and high to low mouth feel on the vertical axis. After inquiring about the customer's preference, Kunitomo suggests a bean that can either be had by the cup in-situ (brewed to perfection by the staff) or bagged up in 150g packages. If buying beans, every customer is asked to fill in a customer form similar to one you would find at your local doctor or dentist. Mameya's attentive staff note when and what beans were bought. All beans come with a small leaflet with information on the roaster, comments by the barista and a handwritten recipe made to match the customer's brewing equipment (V60, French press, stove top, etc) detailing grams of coffee, measures of water, extraction time and coarseness of the grind. For the perfect cup of joe, Kumitomo and Koffee Mameya leave nothing to chance.
INFORMATION
For more information, visit the Koffee Mameya website
ADDRESS
Koffee Mameya
4-15-3 Jingumae
Shibuya-ku
Tokyo